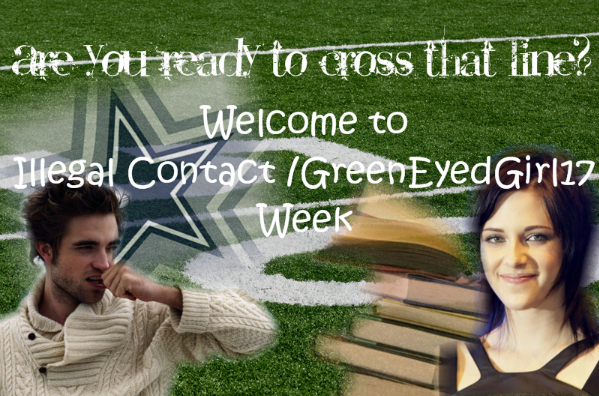 Morning Sweeties! Now I know IM excited for today. One thing, New Moon is tomorrow for some, me included! *squee* And two, INTERVIEW WITH GREENEYEDGIRL17!! Yes, today we get to post the interview we had with GreenEyedGirl17 and with our special guest interviewer Coldplaywhore! Okay on to the fun we had.
PIC: How did you get started with FF?
Jen: I was really bored and disappointed with Breaking Dawn.. And Cullenista was putting story links on IMDB.
CPW: what was the first story you read?
Jen: Black and White by vixen1836 (I think) 1st AH... and Cullenista's Blue Moon Over Manka's
PIC: What are your top 5 favorite FF's you've read? And do you have any rec's for our readers?
Jen: The Office, The Resolution, Black and White, Blue Moon Over Manka's b/c it was the first story to draw me into FF, and Rite of Passage -- I think that's what it was called. A Rite of Passage by Caracol. It's a really good fic and has a sequel - The Way Back. Um... The Naked Guy Upstairs, The Cannabean Betrothal, MIFFY, A Rough Start
CPW: where do you get your inspiration from?
Jen: I have no idea. Well, the reviews help -- they keep me motivated. My beta is super awesome and constantly helping me out with IC. And my hubs, because he loves football (especially the Dallas Cowboys), which gave me the idea for IC. Dallas was sucking, and I thought it'd be nice if we replaced our quarterback.
CPW: Do you really like the Dallas Cowboys? What do you think about Tony Romo? Better worse than Troy Aikman?
Jen: Worse than Troy Aikman... I *like* the Cowboys because my husband is such a fan. Tony Romo is okay, but he just sucks it up way too often.
PIC: If you had to mismatch the canon pairings who would you put with who?
Jen: Jasper and Rose, Bella and Emmett, Edward and Alice. I'm tired of seeing Bella with Jasper.
PIC: And which pairings drive you crazy?
Jen: Edward and Jasper together drive me insane. Why never Emmett? I have only seen one other fic where Emmett was actually with Jasper... can't remember the name of it.
PIC: What is your craziest fan encounter or review?
Jen: This girl demanded that I kill Liz in FFY. She wanted her to die a painful death, too.
PIC: I loved Liz... she was misguided, but she was awesome when she finally came around.
Jen: Yeah, I based her off of a Dr. Phil episode (where I got some of the idea for FFY lol)
PIC: What are some things you tend to steer away from when writing a story?
Jen: Hmm... I don't want to make it some kind of fairy tale where nothing bad happens to them.
PIC: Top Influential bands/artists to FF:
Jen: Lifehouse, that's the main one, and Rascal Flatts. Snow Patrol and Coldplay, too. Everything by Lifehouse ... Summer Nights by Rascal Flatts, Yellow by Coldplay -- have loved that song since college. This guy I liked worked for the college radio station and dedicated Yellow to me -- LOVE that song :)
PIC: Least favorite twilight character?
Jen: Jacob. I cringed as I skimmed through New Moon the first time, and almost threw the book when my hubs actually made me go back and read over the part I skipped. He was manipulative with Bella and rude to Edward. And honestly, Bella really made me mad throughout the series. So, it's a tie between Bella and Jacob.
CPW: So do you write Jacob in IC the way you do, because you hated him in the SM books?
Jen: Yes, but he'll start to back off in IC, so I won't put him through too much torture.
PIC: What is your favorite curse word?
Jen: Fuck. I say it way too much, especially in the car.
PIC: If Heaven exists, what would you like to hear God say when you arrive at the Pearly Gates?
Jen: You're getting one last chance to beg for forgiveness because you definitely need it? LOL. Yeah, hoping he doesn't say go to hell. That would suck.
CPW: What is/was your favorite smutty story? Present company excluded of course.
Jen: A Life Extraordinary by lolashoes. It was just lemon after lemon and somehow she made them all so different. The naked chef chapter... just about killed me. It's a good fic if you want to completely forget about Breaking Dawn and pick up where the honeymoon left off.
PIC:What do you HAVE to read the moment you see an update?
Jen: The Office. I am so depressed that it's ending.
PIC: If you could beat the shit out of one Twilight character, from the book or movie, who would it be? How would you do it and why?
Jen: Usually it would be Jake, but for this question it's Bella. I think I would hit her over the head with the ring box or something, because why did she have to act like such a bitch when it came to marrying Edward? She loved him and wanted to spend the rest of her life with him, but didn't want to marry? Crazy. Old soul? I don't think so.
CPW: Did you ever have an OMG moment in FF? Like someone reviewed you or rec'd you and you literally squeed?
Jen:
Laura Cullen who wrote The List - I flipped out when she started reviewing, and to be honest, when I got the alert that CPW put me on story alert... because I had been reading her stuff for so long and was a big fan. :) And I'm being serious, not just sucking up for TR/MIFFY secrets
.
CPW: This questions is actually from my beta MaggieMay14: In a future chapter, can you have E do some one-armed push ups or maybe some crunches, some sort of massive workout so we can all fantasize? * already drooling at the thought *
Jen: Yeah, I'll write that in there :)
CPW: Okay… Bella walking in on E beating his meat in IC was priceless. Where the hell did you come up with that?
Jen: I have no idea how I came up with that. I just wanted B to finally hear that E really did want her, while he was awake and not just talking in his sleep. My husband talks in his sleep, and Bella is always the sleep talker, so I wanted to change things up.
CPW: What is your favorite position in football? mine is tight end, pun intended
Jen: Quarterback :) No real reason why.
CPW: my last question is.... they say everything is bigger in Texas... is that true?
Jen: Yes, very true. ;)
PIC: Jen what was with the ending of FFY? I loved it and all, but it just kinda boom it's over.
Jen: I just didn't know how to end it -- I think it kind of lost it's whatever along the last. And I knew everyone would ask for a sequel and that would always be in the back of my head, so I didn't want to tempt myself -- ended it so there wasn't room for a sequel.
PIC: Yeah... the last couple of chapters just stopped... I think the fact that Liz started to accept Bella started to end it.
Jen: Yeah, the drama was over and their lives were "normal"
PIC: Why did you make Seth Bella's brother?
Jen: I really liked Seth in the Twilight series and I don't think he is used enough in FF.
PIC: Who do you see as Seth in your head?
Jen: The kid from Glee. The main one... I forget his name though
Jen: I don't picture Rob as Edward IC though... I don't really know who I picture as IC Edward.
PIC: Hmmm, may I suggest J Pad or Ryan Reynolds? Lol
Jen: Love Ryan Reynolds... so much. The guy from Vampire Diaries -- Damon; if he looked a little bit older, I would totally choose him.
CPW: Ian Somerhalder?
Jen: Yes! He is so hot
PIC: Does Bella have Power Panties? (yes power panties... you know the pair you wear when you need the extra boost of something extra)
Jen: In IC power panties? Yep, especially in the next chapter.
Come back tomorrow for some teasing with Tilly.
Love ya xoxxx