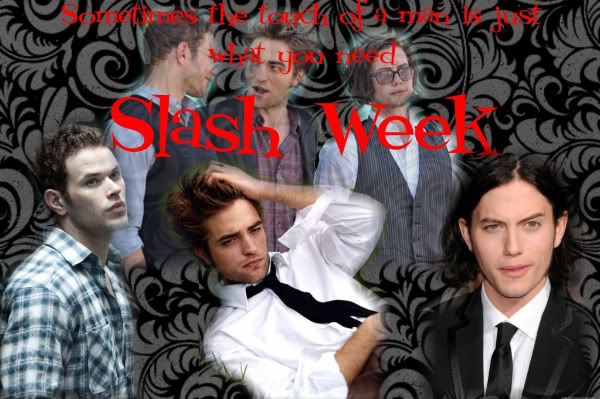 So my week is almost at an end. There are two days and two stories left to rec. :-( This upsets me greatly because I have had so much fun this week. I'm thinking I may have to kick Nikki off the blog for good. *hears crickets* Not a good idea? Okay. Then I won't kick Nikki off the blog. Damn, I thought I would be able to take full control of the blog for longer. Oh, well. We miss you, Nikki. Hurry back soon. There, I think I just made up for what I said about kicking Nikki off for a while.
So, it's Friday. So Happy Friday! *sigh* Nikki will be back on Sunday to make the next announcement. :D Okay. So, there's only one rec today. But I promise this one is worth the fact that there is only one. The story has captured my heart. :D It's called Sketchbook Revelations.
FFn Summary:
Jasper makes a confession to Edward that changes their lives forever. When words fail they rely on their sketches and more to reveal their inner most secrets. Their unique friendship grows and transforms. Can it endure the sketchbook revelations? M AH/AU
My Summary: Edward is an openly gay man living with his straight best friend Jasper. Well, he was straight. After being pressed for cash, and being exploited, Jasper comes to the realization that he is in love with Edward. How does Jasper handle this new information? Is Edward okay with the fact that Jasper is in love with him?
Revelations Everywhere: I stumbled across this story. I decided that I would read it because it sounded interesting. And boy was I glad that I did. This story is sensual, hot, and very well written. From the start, you get the confession that Jasper is gay. That's how the story starts. Him and Edward sitting in a coffee shop and Jasper confessing his love to Edward. Holy crap. You learn how he realized, and you learn that Edward has ALWAYS loved Jasper.
Over the course of the story, you learn about the trials and tribulations that Edward and Jasper go through. Mike, of course, starts drama and decides to throw Jasper through a glass table and almost kill him. Yeah, I balled like a five year old when that happened. You want to literally shoot Jasper's dad for being an asshole at first, but then you want to hug him because he tries. And you fall in love with Carlisle and Esme for always being there for the boys. :D
Life is not perfect for the boys. There is a lot they need to figure out, and there is still a lot they need to do. But it's a story that I am anxiously awaiting the next chapter. You want things to work out for these characters. The plus to this story is that you have realistic problems. And the pairings are just switched with Bella and Alice and Jasper and Edward.
Do me a favor. Go read it. Tell me if you love it. And tell PolkaDotMama that I sent you. :D
Until tomorrow and our last fic. Don't forget to submit your Who's Under Your Tree? Entries!