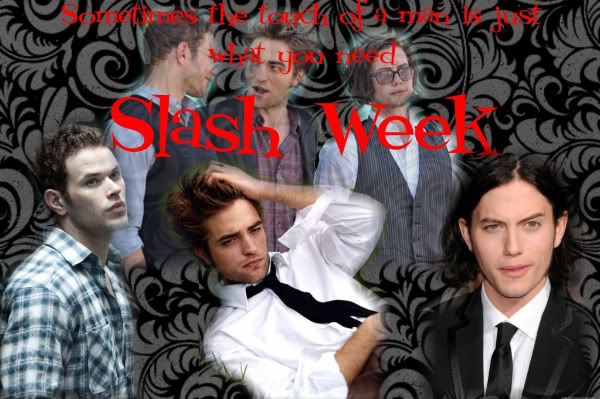 Morning all! Nikki is officially on vacay this week. So that means Slash Week. Urban Dictionary says this is what Slash is : Fanfiction about two male characters/real people. And that's what I'm doing! Now, this morning has a theme and that theme is Emmett. It's not very often you find a good Emmett Slash story. And I found two. The first is Love Park by Mac214. The other is Unanswered Questions by Sparabella.
Love Park
by
Mac214
:
FFn Summary: Bella is Emmett's fag hag and Emmett is Bella's gay boyfriend. They do everything together – will that include Edward, the hot construction worker they see in Love Park everyday? This one shot is written for the the Parkaward Contest. AU-AH. OOC.
My Summary: Emmett is Bella's gay best friend. Bella is Emmett's straight best friends. Emmett constantly reminds Bella that she will never get a ride on his joystick. But what happens when they stumble across Bisexual construction worker Edward? Will Emmett finally change his mind about Bella? Will Edward bring two best friends even closer?
Love All Around!: So the story takes place in Philadelphia, PA. Which for me, is a personal win. I grew up in Claymont, Delaware, which is a 30 minute drive to Center City. So everything Mac talks about, I know about. Emmett and Bella have lunch every day together in Love Park. On this particular day, Bella is bitching to Emmett about the last time she got laid. And Emmett emphatically tells Bella that he is not going to screw her. He also drops the bomb on Bella that he's uncircumcised. She has a million and one questions. And he agrees to answer them. Before they get too far, they spot Edward. Emmett thinks he's gay, Bella thinks he's straight. At that exact moment, Bella has to go back to work, but her and Emmett agree to meet up for dinner that night.
At Bella's place, Emmett shows up with a little surprise. He's invited Edward to dinner. And Edward drops a bomb on both of them. He's a bisexual and is attracted to both Emmett and Bella. Eventually they make their way to the bedroom. Bella finally gets to see what an uncircumcised dick looks like, because both boys have the foreskin going on.
So the story IS a multichapter story. And updates are few and far between. Which is okay. There are only two chapters, and I am salivating for the next one. One thing to keep in mind when reading this story. I know a lot of people are squeeked out by uncircumcised men. But think about it. What's the big deal? When hard, they look almost the same. See. Look. A picture of a circumcised penis.
Now a picture of an uncircumcised penis.
Do you see a difference between the hard circumcised and the hard uncircumcised? Okay. If you really have a problem with the whole circumcision thing, then just pretend. It's okay. I'm not rating, because I still have another story to get to.
Unanswered Questions
by
Sparabella
:
FFn Summary:
***Written for the Slash Backslash Contest*** Resident Geeksper has been lusting after college quarterback, Emmett...Are the two of them really so different? Rated M for lemons
My Summary: Geeksper has been lusting over Emmett for months. But won't make a move because the quarterback of the college football team isn't gay, is he? So what happens when Emmett finally makes the move to get to know Geeksper better? Will he run? Will he finally give him and let his desire take over?
Questions Answered: So last week was our interview with Claire, remember. And remember she mention a story that her and Sparagus were writing? Geeksper/Emmett? Yeah, this is it. And as soon as the girls announced it was up, I had to go read it. Why? Because Emmett in a slash is hard to find. And Jasper in a slash with anyone but Edward is hard to find. So Jasper is an openly gay man, and an amazing student. He's a geek for lack of better terms. But he's a sweetheart. One day Jacob jumps him in the locker room, and Emmett comes to his rescue. After leaving campus, Jasper heads out to a club where he has a gig. During the gig, Emmett shows up. What happens next? Things happen. Emmett and Jazz talk. Emmett needs a ride home, and Jasper offers. After they pull up to Emmett's house, Emmett makes a move on Jazz. And everything goes wrong for him. But things get better, I promise.
It's an amazing story. It's well written, and the girls do an amazing job with it. I read it last night, and knew I had to add it to my Slash Week stash. And I had to jump on it as soon as possible. :D
Tomorrow I rec even more by the Darlins (What is it about them and writing really good Slash?) Remember, if you are willing to try something new, and have never read guy on guy action, come here. I promise the stories I picked out for the week are great stories. They are gentle and you are eased into the action. Well, except for these two. But it is, after all, a Monday.