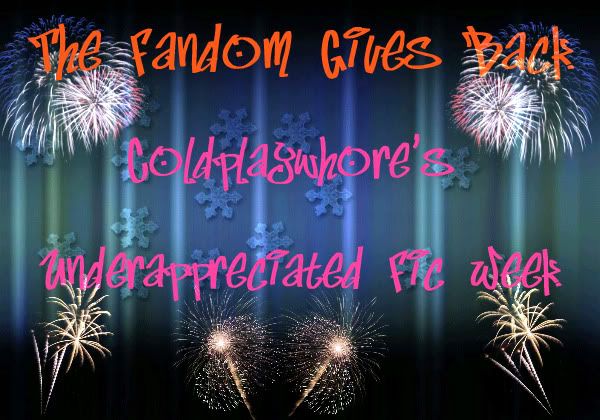 I recommended this story on my own blog back in the early days, but I simply cannot encourage readers enough to go and take a read because it is a simply heartbreaking and lovely romance.
Rescue Me is the story of a heartbroken Bella who is faced with life without her fiance Jacob, after a terrible accident claims his life shortly before they are to be married. The first few chapters, since they deal with the aftermath of his death, may turn off a few Bella / Edward loyalists, but it is a true E&B story, so you need to stick with it. I wouldn't recommend it if it wasn't worth it.
The relationship that develops between Edward and Bella is one of friendship to be begin with. She isn't ready to move on from Jacob and he isn't eager to push her, even though he desperately wants more. Even when Bella decides she needs to move on, Edward takes everything nice and slow with her, not willing to ruin what he knows is there. Edward knows long before Bella that she's perfect for him and he's willing to be patient and understanding, to a certain extent. Like any couples, they have their ups and downs, and Spargus writes it so it is heartbreakingly realistic.
Rather than me tell you more, let's see what she has done to our favorite E & B:
"Bella," Edward said yet again, a magical whisper as he slid one hand up my back and to my face, cupping my cheek. His touch was as soft and gentle as the caress of a butterfly's wings. His eyes captivated mine, and I stood lost in him.
"Edward," I finally found my voice. "I...I love you, Edward." I couldn't contain it any longer, and I didn't stop for one moment to think about the appropriate place or circumstance to make that declaration for the first time. It didn't matter. I just needed him to know right then—needed him to know always.
Edward's face softened, and his eyes melted as they continued their voyage in my own. His hand slid from my cheek to the back of my neck, his long and gorgeous pianist fingers delicate against my heated skin. His thumb stroked my jaw, leaving a trail of fire in its wake.
"Oh, Bella. I love you—I love you so much." And then his lips were on mine, coaxing them to life and setting them ablaze in all their soft glory. I melted into him, my arms moving of their own accord up his back until my fingers found the hairs on the back of his neck. They twisted into the bronze mess atop his beautiful head and pushed him forward, pressing his lips even further into my own.
When Edward's tongue swept across my bottom lip, it broke the haze of wanton passion and replaced it with an awakening nervousness—butterflies came to life in my stomach and heart and head. I allowed him entrance, though now consumed with a nervousness beyond belief. It felt as if this was the first kiss of this nature that I had ever had..
My apprehension soon dissolved, however, when his tongue grazed mine in a sweet, delicate dance; he explored every inch of my mouth, and his taste was pure heaven. I never wanted to let go, but he eased the intensity of our kiss, ending that amazing connection with light peppery punctuating ones, his thumb still working a slow and gentle path against my jaw. His forehead fell to mine, and we stood slowing our ragged breaths as the world around us slowly crept back into focus. No one seemed to pay us much more attention than a passing glance; it was as if earth-shattering love made itself known amidst the airport scene and its strange travelers every day.
I know a lot of you love your lemons, and this story has them (in fact I pre-read the first lemon she ever wrote yeah me) but bear in mind, if you are looking for smut, for the sake of smut, this story isn't it. This story has a slow character build, great family & friends, a truly romantic love story and most of all... excellent writing! So go read it. NOW! You won't regret it. Trust me, I'm a fic elitist.