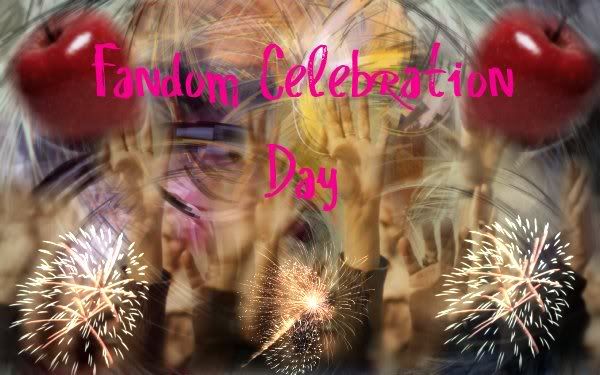 Happy Fandom Celebration Day!
Now you may be wondering what Fandom Celebration Day is. It is a day that was started by Jasper's Darlin's. In short it is basically a day where we can show the positive side of the fandom and all the good that it has done. If you want to read more about it you can go over to the Darlin's blog and read up on it. And see what else they are posting there.
So for today's celebration I approached some other authors in the fandom and asked them to express some of the positive testimonials and general goodness they have experienced in the fandom. After them I'll give you my little tid bit. But read this and just feel good.
Coldplaywhore:
When I first started in this lilttle fandom in March 2009 (which I still can't believe was almost a year ago) I knew nothing about Fan Fiction. I was just one of those people who read Twilight, saw the movie and was left wondering why there wasn't more. I still curse Stephenie Meyer to this day *raises fists in anger like a crotchety old man**, but if she hadn't been such a cock blocking son of a bitch, I never would have stumbled across AG003's Wide Awake and thus began my addiction to Fan Fiction.
When I started writing, I had no one supporting me or anything like that until I stumbled onto Flightlessbird11 and MaggieMay14, who are two of my besties to this day and I thank god Maggie lives only forty minutes away so we could hang out and do great things like see New Moon on opening night and hopefully go to the Toronto Twilight Convention. It was through their constant encouragement that I kept writing, and now look at where I am. I'm a firm believer in supporting those who don't have many reviews, so I am always pimping new stories and I think the up and coming writers are one of most fuckawesome things about this fandom, because I truly believe that even though a story might have 25,000 reviews, doesn't mean it is well written, it just means it appeals to a broad spectrum of people. Being able to contribute to such awesome charities as Haiti Earthquake Relief and Childhood Cancer has been a suprising added bonus.
Of course the best thing that the fandom has brought me is the lasting friendships I have created. I know that if I left the fandom tomorrow (it won't happen, so just humor me here), I would still have such great friends in flightlessbird11, MaggieMay14, Beegurl13 and Risbee, who is the carrots to my peas. Don't even get me started on all the wonderful women I have formed friendships with through the magic of twitter. TwiOthGirly, Kerry513, Kikikinz, LexyW28, gossip-bangok, ARenee363, bouncy72 and TillyWhitlock are all totally fuckawesome in my humble opinion.
In closing, I think it's wonderful that we as a fandom can (for the most part, I know there are a few exceptions out there but I choose to ignore thei
r existence) be constantly encouraging the others in their writing endeavours and real life pursuits. It's amazing h
ow we all have found each other through a mutual love of a sparkly vampire family, who have insatiable appetites for sex and if you ask most writers, Edward's gigantor like peen.
Amen.


Kerry Hale:
Just over a year ago I discovered the world of Twilight Fan Fiction and slowly became obsessed, or at least that is what my husband likes to say.
I read Twilight just before the movie came out and after finishing Breaking Dawn I felt like I needed more.
Through the world of Fan Fiction I found some great people that I am blessed to call my friends.
I love that we are able to come together and be each other's cheerleader, shoulder to cry on, comic relief and more whether it be ff or RL.
I have met some truly wonderful people and that wouldn't have happened with out the world of ff.
I'm grateful for the fandom for two reasons. One, I'm able to improve my writing. Even if it isn't popular and I don't get a lot of readers, I've noticed how my writing has developed from the beginning and the feedback I've received helped tremendously. The second reason...the people I've met. I've met a couple of people and I look forward to meeting me. We've become almost like our own community and the support is astounding.
Clurrbella:
The Fandom to me, is more than just fan fiction. Its a collection of many many positive things from the writen work to the authors, charity work, friends and of course blogs as well as many other things. The people behind the blogs spend so much time and dedication to bring readers like myself something else to the fandom and I think they truly deserve to be thanked.

For me, the blogs are often my only source of Twilight news. I am in the UK and Twilight itself really isn't really a craze here and being that most of the promotion takes place in the US I often miss out on all the extras that go along with the Saga such as the films launches, interviews and photoshoots.

I want to let all blog owners know that I really appreciate the time and effort they take into creating these amazing blogs and that the level of hard work, dedication and talent that it takes to maintain the blogs still amazes me to this day and that I for one appreciate it and am thankful that they continue to do so.

I wanted to talk a little about the PIC Fanfiction corner blog as they were the first blog to approach me and ask for an author interview. I was completly shocked and suprised and grateful that Nikki and Tilly wanted to talk to little old me and I agreed. While I was nervous and unsure of what exactly was going to happen in the interview what happened after I left had the biggest impact on me.

I made two friends.

Two friends who have supported my work and helped spread my own work through their own hard work, time and deciation. After the interview, we continued to talk frequently through Twitter or IM and very quickly we all forged a friendship. What started as a two hour interview soon become two people I couldn't imagine not having in my life and while that blog post may sit in the blog archives I am proud to say our friendship is very much a daily part of my life.

I love you both very much and want to thank you once agian for being such awesome friends and for supporting my work, it really means a lot to me. I love you both!


Mrsalreyami:
When I joined the fandom, I was a reader. I came into fanfic because I was crazy about SM's characters and wanted to keep reading, but had gotten tired of re-reading the Twilight Saga over and over after the 6th time in a row... (Yeah, I was overseas and bored, give me a break, lol.)
So I found FFn, and I read. And I read and read and read. I started with canon, then spread my horizons and checked out tons of non-canon options. It's been a year now, and I'm just as stuck in FFn land as on my first day. Now, though, I'm here as a reader, an author, a reviewer (important one, that!), a blogger, and a tweeter. That last one probably should have been listed first...
The biggest difference, I think, between the time I joined the fandom and now, is that it isn't just amusement to me anymore. So many readers and writers have become friends of mine - actual friends. Talk often, meet in person, can't imagine my life without them, love them to death kind of friends. Were I to make a list of my best friends, the first five or more would all be from FFn. I've made friends with people that I used to (ok, lets be real here, still do, sometimes) totally fangirl. And it's amazing and fun and totally helpful to have this huge base of friends who UNDERSTAND me. Because, let's face it, most people don't get us crazy Twi-obsessed people. We're the new, slightly-less dorky, Trekkies.
And sure, there's been a bit of drama. Bad reviews, nasty PMs, Twitter issues, crazy women trying to mess with my life, blog drama that I'd rather forget about... But, to be honest, the good has far outweighed the bad. I am so glad to be a part of this fandom, to have made the friends that I've made, and to have had so many people tell me that I changed their image of Carlisle or touched them with my writing... Yeah, I love it here.
Risbee:
So I've taken the past few days and tried to figure out just what it is about the fandom that appeals to me so much and I can't pinpoint it. The best I can do it compare it to an all you can eat buffet – there is something for everyone and the combinations are endless. Trust me, there are definitely aspects of the fandom that make me stare in utter confusion like the green jello square with the unidentified pieces of fruit suspended in the middle or the one remaining bowl of chocolate pudding that everybody seems to be avoiding, but nobody will explain why. But for the most part, the fandom makes me feel warm and fuzzy and the concept of picking a few things for my plate is a surprisingly overwhelming yet fulfilling task.
I wasn't exaggerating when I said there was something for everyone, even the cynics, but since today is a day for celebration, I'm not going to dwell on that. Over the past year I've been a part of the fandom, I've learned so many things, both about myself and about people as a whole. I've found something that makes me feel like I'm using my brain, and considering the past seven years I have been at home with two small children, anything that makes me feel that way is a bonus. I've been part of two fundraisers that make my heart so full I feel like it will burst…sure I didn't write anything for either one, but I donated and cheered and supported in the ways that I could. I've made some incredible friends along the way that I can't imagine not having in my life. I may have even found my husband's twin brother…though like the green jello mold, it is probably just best to not ask questions and move on.
I guess what I'm trying to say is that the fandom has brought something to my life that is full of choices and surprises and I'm glad to be a part of it.
Okay, when Nikki asked what good things I feel have come from the fandom, my first thought was of the friends I've made. Most of us keep what we do here a secret in RL, and I'm no different. Sure, my hubs knows about it, but my friends? Clueless! The friends that I've met here have been more supportive not only of my writing, but of the real life problems that I've shared. I've become very close to a couple of really wonderful women, something that wouldn't have happened without the fandom.
After thinking of that, I started thinking about the fandom a whole. I know that there are some people who lately have been making this a difficult place, either by stealing another writer's work, or just being outright rude and disrespectful of authors because of style and/or content. But putting all that aside, we've managed to raise significant amounts of money for cancer research and most recently for relief efforts in Haiti. Women and some men all over the world gave all they could spare, and in some cases more, uniting us as authors, readers, admirers and finally as fighters. We all fight for curing cancer, and we fight for helping a country after devastation.
We all laugh, cry, argue, and love the same stories. Without you ladies, I never would've discovered or explored this creative outlet. My friends here, you mean the world to me. We are, hands down, the craziest fans around. I wouldn't have it any other way!
TwiOthGirly (Nikki):
Well I might as well start off with how I got started with the fandom, because they say it all starts at the beginning. Well, I was bored after I read the last Harry Potter and needed something to read. I went to wikipedia and saw that they were going to make a movie of Twilight and figured that it would be a good read. Got the books and it was history from there. But I was once again bored after I finished the 3rd book. I was already a writer of fanfiction for One Tree Hill, so i figured I'd go find some twilight related stories, just to bide my time. Again from there it was history. I fell in love with the ideas that people were putting forth and the creativity. It gave me the drive to start writing my own fanfics for twilight. And once I started on my first story I met Tilly Whitlock. And from there a bond just formed and the birth of the blog came to be.
I can say that this fandom and this blog gave me something more than people to just talk to about all the different Edwards, Jaspers, and Emmetts. This fandom gave me friends, confidants, and sisters. I am an only child who isn't really used to haven't a bunch of friends but I can honestly say that having these people in my lives have not only stimulated me creatively but also emotionally.
Also I can say I have not been this grateful in my life for the people that I have met through fanfiction and twitter. I have friends across the world now and that is some never thought possible. And that shows that we are a global community and we are capable of so much good. I am proud to say I am part of a fandom like this because you make friends for life.
HAPPY
FANDOM
CELEBRATION
DAY
love ya xoxxx