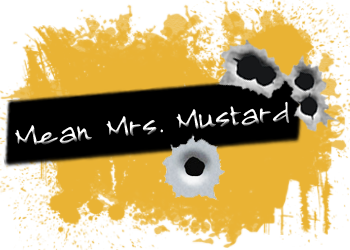 Author Link:
http://www.fanfiction.net/u/2072412/
Story Link:
http://www.fanfiction.net/s/5535491/1/Beautiful_Stranger
So, not that long ago I was looking for something new to read… with a DILFward perhaps? I'm not one to go fic diving unless I am looking for something really specific, but one of my readers had suggested that I check out 'Beautiful Stranger.' I was surprised to see that it was written by two of my own most loyal readers, Holly & Pauline, otherwise known as the NJNYTwiGals. So, needless to say, I jumped right in and I haven't looked back.
The first chapter of this wonderful story is actually the original one shot that won Third Place in the "Things that Go Bump in the Night" contest on 'The Sandbox', which is a fiction related website that I highly recommend checking out. Anywhoo, the initial one shot features Bella going to a Halloween party dressed as, and I quote 'Snow White's evil prostitute twin', and meeting a masked man dressed like the Phantom of the Opera, also known as Edward. Bella is a single mom of a young daughter, and Edward is a single dad who lives in Chicago and is simply in town for a visit with his family. One thing leads to another and the duo end up engaging in some truly steamy times. I don't want to share all the specifics, but trust me; it's erotic as all hell.
Well, one year later, Edward has moved back to town and has another unexpected run in with Bella. Sparks fly yet again and they begin to start a slightly tentative, but very sweet and sexy relationship, as both of them have young daughters, who of course become instant best friends. As in all good stories, there is no shortfall of drama and miscommunication between the lovebirds.
"It's him, isn't it? Edward's your Beautiful Stranger?" Rosalie guessed softly, offering me my coat when she reached me.

I took my coat and quickly put it on. "How did you know?"

Rose gave me a gentile smile, "Oh, honey. It was written all over his face the way he was looking at you tonight. He was looking at you like you were the only one at the table. He barely regarded Lauren once you showed up. And I'm pretty sure he would get his jollies off of beating Mike to a pulp for touching you. I can't believe that it's really Edward. My god, Bella, you must be going out of your mind."

I sat down on the bench and Rose plopped down next to me, putting her arm around my shoulders engulfing me in her love and warmth. "Tell me about it," was all I could say.

"I just don't understand why you guys haven't reunited or gotten together yet. What's the hold-up because you two are obviously crazy for each other," Rose laughed.

"You heard why. He's scared, plain and simple. His words, not mine."

"You can't believe that now, Bells." I gave her an incredulous look. "Okay, maybe he was last year, but he certainly isn't now. The way he was speaking and looking at you was so passionate, I thought he was going to jump across the table and kiss you."

I scoffed, "Yeah, right. He's not very happy with me right now, and I can't say that I blame him."
I'm not sharing the sexy times these two share because I want you to run out and read the story to find them yourself. However, every single chapter is well worth it and it is actually one of the stories I rush to read when it updates. I'm certain you will feel the same way. So get on it, especially if you like the romantic good times and a little slice of heaven known as DILFward.
Now let's learn a little more about Holly & Pauline shall we?
MMM: Hello Ladies. First of all, introduce yourselves and tell me how you got started in Fan Fiction.
Holly:
Last year around this time, my friends had a Twilight DVD release party, and they were talking about Wide Awake (surprise surprise) and the Office. I was intrigued and was sent the link the next morning. I made the mistake of reading The Office during the day in front of my daughter. So I had to wait until night time to read the next chapter… LOL. I have been hooked since then. Months later, our friends and us started a ff email thread and starting rec'ing fics and discussing them. I haven't looked back since.
Pauline:
My name is Pauline and I the NY in NJNYTwiGals. I first dabbled reading fan fic one shots that were really just extensions of the original books. Then one of my friends told me about a story called Wide Awake. I didn't understand the concept of stories where they were all human and there were no vampires. But I gave it a shot after she kept telling me to read it. Well...just like most of you I read it and became obsessed. After that I started pushing all my Twilight friends to read it. Once a bunch of them became hooked we started digging and from word of mouth started hearing about different stories and the fun began.
Holly:
oh yeah, um, I'm Holly and I am the NJ of NJNYTwiGals. LOL, I'm slow
Pauline:
I was the one who got Holly hooked...LOL. I made her read Wide Awake.
MMM: Were you girls' friends before Fan Fiction or is this a friendship that formed because of Twilight?
Pauline:
Yes. We met through the website Twilight Moms. I am not a mom but I am over the 25 so I qualify as a Twilight Mom.
Holly:
Yes, we met through the NJ/NY thread of Twilight Moms. It wasn't until I started to go to more of the get togethers that we got closer.
Pauline:
A bunch of the TMs had a get together in NYC and that I where I met Holly.
Holly:
We sat next to each other.
MMM: Very cool :) So how many of your RL friends are involved in fan fiction in some way?
Holly:
Most of our group read it. We have been recruiting many.
Pauline:
A few of our friends write but most are just avid readers. We are good friends with Robicorn who writes a story on ff.net.
MMM: What inspired you to write 'Beautiful Stranger'?
Pauline:
Holly actually wrote Beautiful Stranger as a one shot and she won or came in runner up? Holly can better tell that part. We were already writing 'Where There's Smoke' at that point and Holly asked if I would be interested continuing that story with her as more than just a one shot.
Holly:
I wanted to enter a contest to see if I could write a one shot. It had to be centered around Halloween. That's where I thought of the masked stranger...hence, the phantom of the opera mask. Even though it was a one shot, I had every intention of asking Pauline to extend it with me, but I needed a story. I liked the idea of Edward having a kid, but there are few fics out there that I know of that have Bella as a mommy already having a child. I wanted our story to be a little different where we write the common everyday issues of being a single parent, dealing with divorce and custody issues, and also finding new love when having kids to think about. I always wanted our Bella to be the one who was financially having troubles while Edward was the social opposite of her.
MMM: Why did you decide to expand it into a full story?
Holly:
Thanks! When I won Third place and people were telling me I should extend it. Pauline and I work great together, so I wanted her to write it with me instead of venturing off on my own. We make a great team
Pauline:
It also kind of takes the pressure off of each of us to write together because you split the writing duties. That, of course, kind of diminished when we started writing two together but it has worked out well for us.
MMM: Okay, now tell me about Wicked Angel. How did this whole situation come to be because I noticed that this is a collaboration with six authors in total. Are you girls fucking nuts?
Holly:
LOL, that's what I thought at first, but we thought it might be good to try it. We each take turns writing chapters or partner writing them. It's a lot of emails back and forth about story line and what should be included in the next chapters. Thankfully, our writing styles seem to mesh well and we all basically write Edward and the other characters in the same tone. I found it extremely surprising that 6 women could for the most part, get along and write...LOL. I am also finding it very easy to write a sadistic Edward.
Pauline:
It works in a similar way to Holly and me...there are a lot of Facebook thread chats...but each chapter is a bit more independent. We discuss where we want to go with a particular chapter, what points need to be hit, and then whoever writes that chapter (usually one or two of us) goes off, writes it, sends it to the group to approve and it is posted.
MMM: What are your top 5 favorite Fan Fiction stories you've read?
Pauline:
Right now I would say Master of the Universe, The Resolution, Wide Awake, Clipped Wings & Inked Armor and Emancipation Proclamation...I have to throw in University of Edward Masen too...so six.
Holly:
Mine would be
University of Edward Masen, Emancipation Proclamation, Silver Strand Nights
(can't get enough of GreenEyedGirl17),
A Woman Scorned, The Resolution and The Lion and the Jackal
(which is the sequel to
The Sacrificial Lamb
). I also want to add that I read many more and have a soft spot for stories that don't get enough recognition.
MMM: What would you recommend to our readers so something they need to read?
Pauline:
I just read
Illegal Contact
by GreenEyedGirl17 which was really good. I also read
I'll Be Your Lover Too
by EdwardsBloodType and
Love Will Come Through
by coldplaywhore.
Holly: What Hurts The Most
by beegurl13...hands down number 1 pick for everyone to stop and read.
My Brother's Best Friend, The Sacrificial Lamb, If You Could Read My Mind.
MMM: When you ladies started writing fan fiction, were you ever discouraged about it? Maybe worried that people wouldn't like your writing? If so, what did you think about it?
Pauline:
I was more afraid of our RL friends who read fic to read our stuff. I didn't want anyone to read because they felt they had to because they were our friends, and I worried if they didn't like it they would feel forced to continue and say nice things about our stuff. It took a bit for our stuff to catch on but now we have a nice little following and we love all our readers. We will probably never reach 15,000 reviews but we are okay keeping those we are loyal to us happy.
Holly:
Of course I was discouraged. It's only natural to feel nervous about writing something and then unleashing it to the masses on fanfic.net. It was intimidating at first, but once we found our groove, we were more secure. We were hesitant to want to have our RL friends who read ff actually sit and read our stories because it can feel like walking naked in a room full of people. We have such awesome readers who are supportive and encourage us daily.
MMM: Have you ever had any surreal moments in the fandom? Times where you wondered what the hell you were doing, or shocked that something happened?
Pauline:
I follow a lot of authors on Twitter and it makes me sad when I hear some of them bashing each other or other people's stories, review counts, etc. It takes a lot to put yourself out there and we should all be supportive of each other. But a surreal moment was getting to meet SnowQueens IceDragon who writes "Master of the Universe" when she was visiting NYC. I'm a huge fan of that story.
Holly:
In the fall, Pauline and I and some of our friends went to a Bobby Long show at a bar, we were discussing fan fiction and the story was "Seducing Edward." All of a sudden this girl comes up to us and asks if we are talking fan fiction and we told her yes. She introduces herself as Oohlaalaaah. We had a tiny fan girl moment. She was with some other authors, as well. I would have to agree with Pauline about authors bashing each other. It seems so petty really. I mean we are all alike, we like to write fan fiction, but for Pauline and I- it's for fun and enjoyment. Too much emphasis is on the reviews, meanwhile there are many well-written stories out there that hardly get any credit because they are not the "it" story. That's why I am reluctant to mention very popular stories as my favorites because they get enough hype… some well deserved. Pauline and I never lost sight of that. We're happy with what we are doing, regardless of how many reviews we receive- that doesn't define us.
MMM: If you had to mismatch the canon pairings who would you put with who and why?
Holly:
Oh, I would love to read a really good story with Emmett and Bella together
Pauline:
Oh that's hard because I hate non cannon couples.
Pauline:
But I guess Emmett and Bella and maybe Edward and...maybe Alice but that always seems like incest to me.
Holly:
Too many people place Jasper with Bella, but I like the big bear with her. I don't know why, I just do. Alice and Edward together freak me out, so I wouldn't want that. Maybe Rosalie and Edward
Pauline:
I was just going to say that about Bella and Jasper, Holly...LOL.
Pauline:
It's hard to put Edward with anyone else.
MMM: Is there something you don't feel comfortable reading or writing? Femslash? Slash? Anything involving Jessica Stanley? If so, why?
Pauline:
I'm not big on slash. Especially not guy on guy slash and rape makes me cringe
.
Holly:
I just cannot write slash or even read it so much. The crazy thing is I don't mind reading some girl on girl action, but the guys...not so much.
Pauline:
Poor Jessica, Tanya & Lauren...they are always big old sluts in every story.
Holly:
LOL or they are dead or complete bitches
MMM: If you could beat the shit out of one Twilight character, from the book or movie, who would it be? How would you do it and why?
Pauline:
Jacob from the books definitely. I didn't mind him in New Moon but man he annoyed the hell out of me in Eclipse. Especially when he kissed her forcefully. I'd be Edward and break his jaw for her! LOL! But Taylor Lautner is adorable and has softened my heart a little to Jacob...but I'll see how good of an actor he is in Eclipse because if I end up hating him then he will have done a good job.
Holly:
I would have to say Jake. He just crossed too many lines for me in the books. I would have love to tie him up and leave him in the woods or at the end of the bed to watch Edward and Bella...lol. Yes Taylor does a good job, it's not a reflection on him, but sometimes he was a straight up dick in the books, and I am sure he will be one on Eclipse, the movie.
MMM: I'm sad to say that I have yet to read you other story, 'Where's There's Smoke' simply because there is not enough hours in the day for Mean Mrs. Mustard to do everything I want to do. So, for our readers, give us a quick reason why we should read that one too?
Holly:
Um, Edward and Emmett in fire uniforms.
Pauline:
Ummm...I feel like Where There's Smoke is our baby because it is our first. You can see a lot of progression from the beginning to now as we got more comfortable writing but I grew up with a dad who was a NYC Fireman so it was cool to write Edward into a role that I knew something abou
t.
Holly:
Really, they should read it because when you think the story is going one way, it turns into a completely different direction.
Pauline:
He isn't the stereotypical rich boy in this story either. He is blue collar and just yummy all over.
Holly:
Even Carlisle and Esme are blue collar. Bella is very strong in this one and doesn't need saving. She has some attitude ;)
MMM: What is your craziest fan encounter or review?
Pauline:
When we were at the New Moon Premiere that our friends put together in NYC one of our friends brought her friend who was reading our story and she wanted to meet us. Holly came running into the theater and was like "you have to come out and meet 'so and so' she wants to meet us." I walked out and she gave me a big hug. That was sweet. Reviews are funniest when we leave them in a cliffy because they want to find us in a mob with torches.
Pauline:
We were also sending teasers to reviewers and it would make me laugh when people would just leave a "=)" in a review.
Holly:
I don't consider this so crazy, but I was very surprised with the amount of women reading Beautiful Stranger who are single mothers, so they get Bella's struggles. Some of them have had their own "James" to deal with. They have all said that we place a realistic picture of what it's like to be a single mom raising a kid, while trying to start a relationship and taking their kid's feelings into consideration. As for fan encounter, it would have to be the time in November at a New Moon premiere party in NYC, some woman came up to me and asked to hug me because she reads our stories and recognized me from the profile pic.
MMM: Is that really you girls with Rob on your FF profile page and if so, has whoever is on the right considered getting the camera surgically removed from your forehead? It's a bit distracting, although Rob looks all kinds of hot in the photo.
Holly:
YES. We met him at the beginning of the month at the Today Show
Pauline:
Hell yeah! We waited outside in the cold at 4:30 AM for that picture!
MMM: Who's camera face on the right?
Holly:
I touched that man 3 times. I kept on pulling him back nicely to take another picture with us, the first time, I had the zoom in and it came out wonky. He gave me a look...it was funny.
Pauline:
That was actually Holly holding that camera...the picture we have posted was some paparazzi person taking a picture of Holly taking our picture. Her picture came out way too close and you only see Rob's face and my eyes.
Holly:
Pauline, Rob, and I made a couple of blogs...Robsessed, EdwardandBella, The Today Show.
Pauline:
So when we saw those pictures online we were so relieved to at least have a decent shot of "The Pretty"
Holly:
He seriously walked RIGHT to where Pauline and I were. We couldn't breathe and we were right against the barricades.
Holly:
He was so nice too and his voice is delish
MMM: and you didn't chloroform him and drag him back to NJ?
Pauline:
I tried...but there were too many damn girls around.
Holly:
Yeah, that would have been nice.
MMM: Did you ever have an OMG moment in FF? Like someone reviewed you or rec'd you and you literally squeed?
Holly:
Um...you...LOL
Pauline:
Uh...you!
Pauline:
Not even kidding.
Holly:
I remember that day so well: Pauline was over and I got the alert that you story alerted us and I squealed aloud
Holly:
it was the day after Kassiah had mentioned that our story BS was kicking her ass for the week on the Fictionators... we were on a high that weekend. OH and GreenEyedGirl17 reviewed and altered BS!!!! I was very happy about that
Pauline:
We met her on The Sandbox but it was an honor when she rec'd us.
Holly:
We are actually surprised at how BS is coming along and getting noticed somewhat.
MMM: What is your favorite curse word?
Holly:
Fuck...without a doubt...favorite naughty word...clit
Pauline:
I think I would go with the big one...fuck...it can be used in so many different contexts. I find I use it the most in fic...LOL
MMM: What do you HAVE to read the moment you see an update?
Pauline:
The Resolution, Emancipation Proclamation, Master of the Universe and UofEM.
Holly:
Silver Strand Nights, The Misapprehension of Bella Swan, The Resolution, UofEm, What Hurts the Most and EP.
MMM: What is/was your favorite smutty story?
Pauline:
I would have to say "I'll Be Your Lover Too"
Holly:
Bitter Sweet Symphony...it has a great story and the smut is fantastic. There's girl on girl, too....and it's really hot.

MMM: If Heaven exists, what would you like to hear God say when you arrive at the Pearly Gates?
Pauline:
You are allowed to read fan fiction here.
Holly:
Welcome! Dirty Martini's are to the right. Help yourself!