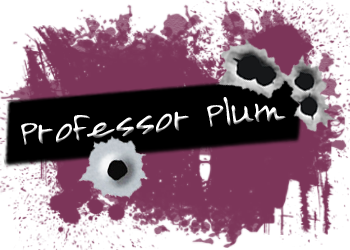 Okay, so pretty much everyone knows that neither tby789 nor LolaShoes actually need any of the pimpage that I am about to give them, but I can't help myself. When I first picked up A Little Crazy, it had yet to be expanded or completed. Truth be told, I don't even remember how I stumbled upon it, but I did, and I went wild about it. I even listened to the audio book, which can be found on either tby789's or LolaShoes' blog.
Professor Plum's summary: Bella is a single woman living in the small town of Forks, where she has lived her entire life. She's never left. Never traveled; she's quite the homebody. Edward moves in across the street, where Bella has witness countless tenants drift through, never staying long enough for her to know any of them. She discovers that Edward is a doctor, but not just a regular old spends-thirty-hours-at-the-hospital doctor, but one that proudly works with Heath Relief International. And cue our favorite couple's heartbreaking conflict.
FF Summary: Edward is the new, mysterious tenant across the street. Bella has spent her entire life here. Can he convince her that life isn't a place, but what you keep with you?
That summary can't even begin to explain all of the wonderful things about this little, four chapter adventure, telling the tale of two people who fall in love quite accidentally. The summary can't express the amazing talent that these two authors possess. Their descriptions of the smallest things are impossible to go unappreciated as you read through the story. Just the depiction of Bella and Edward's first encounter is so intricate, intimate, and full of texture. You can literally feel that every word has a purpose as you read.
June 8th

His pie had crust latticed over apricots, blueberries, and scattered purple plums. Colorful and beautiful. I hoped he wouldn't notice, and I hoped he would.

I carried it over, hopping barefoot over the hot street, balancing the pie. I reached the door and knocked once on the familiar wood.

Footsteps slapped along the hardwood and his auburn hair appeared in the row of windows before his eyes peeked over and then disappeared.

Moments of silence passed and I feared he could hear my heart beating. I also feared he had walked away. The knob turned and he appeared in front of me. Clean but scruffy, beautiful but unfortunately clothed. His ears were stretched with small black bands, his eyebrow was decorated with a small ring, and he had a silver vertical labret in his lower lip.

"Hi," I smiled. "I brought you a pie."

His eyes broke from my gaze abruptly and looked down at my hands. "For me?" he asked, grinning.

I nodded, looking at the blue and red ink spanning his neck. "It's what I do whenever someone moves into this house."

His face registered this, and what looked like disappointment and excitement mixed over his features. His lips pressed together in recognition that other lips had tasted pies that I made just for them. His eyes shone when he guessed that I had only ever blended color like this for him.

"I went a little crazy with yours," I confirmed, nodding to the pie. I bounced on my toes on the hot porch.

He took the pie and lifted the corner of his lip as he smiled. "I like a little crazy."

I laughed and turned to leave, waving at him quickly. "Bye colorful neighbor guy."

"Bye a-little-crazy neighbor girl," he murmured.

I felt his gaze on me the entire way back across the street.
I know that, when I read this story, the authors captured me with the language, which is a rare find here in the word of fan fiction. The characters speak through their actions; they don't just simply tell you how they are feeling. I love this aspect of tby789's writing, which I remember from reading The Office. She lets you feel and experience what her characters are going through, and your heart flutters, breaks, and explodes right along with them.
Plus their Edward is swimming in tattoos.
Now go, read on tby789's profile:
http://www.fanfiction.net/s/5343041/1/A_Little_Crazy
Or on Lola's profile:
http://www.fanfiction.net/s/5343033/1/A_Little_Crazy
There is also an outtake that leaves you all warm and fuzzy ;)
You won't be sorry!