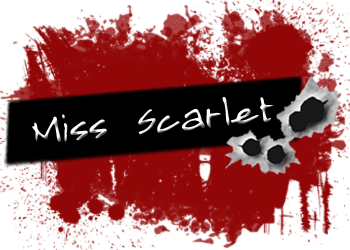 Welcome to Into the Darkness Week bambini. I will tell you first had I am not one to willingly go for a darkward or a darksper but I found this one story that I think works.
Undead Life
by
Crash Hale
gives you the short story of if Edward was truly the bad guy he said he was. And what if Bella was truly his saving grace.
Summary:
Vampire Edward Cullen is addicted to turning beautiful females, but is never satisfied with them for very long. Meet his longest running obsession; a lovely shy brunette with big brown eyes and unreadable thoughts named Bella Swan. Rated M.

Parere Miss Scarlet (Miss Scarlet's Opinion)
This story is all about Edward's dark obsession with finding the one. We all can relate to finding the one we want to spend our life with, that perfect mate. Well, Edward does that but he goes through a trail and error first. He changes women in search of it. He changes Alice and Rosalie hoping that they are the ones but comes up short. Until he finds Bella. He finds her at a young age and spends years watching her and picking up everything he can about her until he can change her.
Edward in this gives you a subtle darkness. You get more in touch with his need to make Bella his. After the change you go and see the way he takes care of her to incorporate into the lifestyle that he has damned her to. But what is unexpected is how they change each other. He becomes more softer and his dark need to change women is all about the woman that has changed him in the end.
I stopped playing the notes suddenly, Alice rushing to the doorway.

Now? She asked.

"Now." I responded.

She gave me a smile and nodded.

I'll be here. She'll be fine. Don't worry. She wont be angry with you.

"Thank you, Alice."

With a final glance at her, I left the house. My whole family was surprised that I actually cared enough to question if she'd hate me for what I was about to do. I was a changed monster.

I was at Bella's home in minutes, right outside her bedroom window.

I noticed the picture of her parents that usually sat by her bed was in her hand tonight. She missed them. The expression on her face while she slept showed the pain she was in.

I listened to make sure Jake was asleep in his dog bed in the hallway.

He was asleep. I was safe.

I gently opened her window and climbed in, closing it behind myself.

The moment was so close I could taste it... I mean literally taste it, her scent overpowered me.

I swallowed hard and stopped my breathing, it didn't help much, but still the slightest bit. I'd take what I could get.

I had gone over this a million times - asleep was best.

Well, here she was, asleep and peaceful.

It would all be over in a few seconds, and she'd only feel the pain briefly - I tried to tell myself.

She's strong, I reminded myself as I walked closer to my love. She can do anything.

I hovered over her and watched her blood pulse under her pale skin. As I closed my eyes, flashes of Bella, walking towards me in white appeared. I knew I could do it. She was my future. I needed her to be.

Inch my inch I moved closer, and as if offering herself to me, she shifted, so her neck was more exposed to me and my razor sharp teeth.

I closed my eyes tightly and placed my lips against her soft warm skin. I had imagined touching her, every god damn night, but nothing could prepare me for how amazing she felt.

She moaned softly and hissed just a little at the cold of my kiss.

The venom was already filling my mouth, flowing around my teeth. I parted my lips and sunk my teeth into her breakable silky skin. It was so easy to break though. The blood rushed there and I drank.

I barely felt her jerk awake with a weak scream, grabbing onto me, her blood was just so...

I couldn't stop. I never wanted to stop. I had never been more satisfied, and I had never wanted more so badly.

Jake was barking at this point, Bella letting out another soft whimper before she went limp under me.

Mine. How could she be mine if I killed her?

With a growl I pulled away from the sweetness that was Bella. I jumped all the way to the other side of the room, holding myself against the wall as her fresh cut began to heal, my venom working on her quickly.

It worked, she was changing.
Miss Scarlet: How did you get started with FF?
Crash Hale:
After I finished reading Breaking Dawn I just NEEDED more of Ness and Jake, and it all kind of went from there. After reading a bunch of amazing stories I decided to try it out myself.
MS: What inspired you to write 'Undead Life'?
CH:
My friend told me I was scary because I hadn't read Midnight Sun yet, so I quickly did so. I was surprised that I liked it SO MUCH better than Twilight. Edward is completely different in his own head than he is in Bella's, and I just fell in love with him even more. It put me in the mood to write something a little darker, and it's also the only vampire thing I believe I've written - at least in a long time. I felt like writing something different to my usual human pairings.
MS: What are some things you tend to steer away from when writing a story?
CH:
Things that I can relate to. I know that's strange, but when I can completely relate to something I'm writing, it brings up all these emotions inside me I'd rather let rest.
MS: What are your top 5 favorite FF's you've read? Any recommendations for our readers?
CH:
If I have to pick only five then here is my list. And I recommend them all.
1 -
Emancipation Proclamation
by kharizzmatik
2 -
The Submissive, The Dominant, and The Training
by tara sue me (Yes, I totally just cheated by putting three stories into one spot, but that's how I role.)
3 -
All Work and No Play
by herinfiniteeyes
4 -
Shadowboxer
by nobloodnofoul
5 -
The Ghost of You
by crimsonmarie
MS: I know you collab a lot with Courthale. Do you find it easier to collaborate or work solo?
CH:
I enjoy, and find it easier, to collab. There are so many more ideas that you throw about with one another - and then you also build on each others thoughts and it all just becomes this big thing that's so much better then if your mind was the only one at play. Plus, there's less to be written, and excitement when Court is writing.
MS: How important are visuals for you when writing a story? i.e banners, cast pictures.
CH:
Extremely. I actually find photos before I even begin reading. I'm a photographer and graphic designer, it's my passion, so of course visuals play a big part in my world.
MS: What do you HAVE to read the moment you see an update?
CH:
cromsonmarie just posted a new story called
The Ghost of You
. There's only one chapter but I am dying for more. It's the most different thing I've ever read and I can not wait to see how it plays out.
I'm also always super excited when All Work and No Play by herinfiniteeyes is updated. If I can't read it on the spot I freak out and think about it until I do get to read it.
MS: And which pairings drive you crazy and why?
CH:
I know it's boring of me, but nothing really drives me crazy as far as pairings go. As long as they are written well, they will work.
MS: Did you ever have an OMG moment in FF? Like someone reviewed you or rec'd you and you literally squeed?
CH:
Hahah, oh yes, one I'll never forgot. When CourtHale, one of my favorite authors, reviewed one of my stories and told me we should write together. It was a huge OMG moment. I couldn't believe she was a fan of mine.
Also, whenever anyone recommends or talks about
Be My Biggest Fan
. I honestly don't understand why my readers like it so much, but I'm very grateful they do.
MS: If you could beat the shit out of one Twilight character, from the book or movie, who would it be? How would you do it and why?
CH:
I honestly hate Victoria. And it's not even because she's bad or anything, because I don't mind bad characters at all, they're interesting actually, but both actresses who play her get on my nerves. I can't even tell you why. I'd just like to gag them with something and get them out of my sight… Again, no reason, at all. I like red heads and I like bad guys, so it really makes no sense, even to me. But it's just the way it is.
MS: What is your favorite curse word?
CH:
I have to pick one? But I LOVE them ALL. I guess if I had to pick one I'd say it's 'fuck', because I use it so often. I have phrases more than words. Like "You know what he can do? He can suck on my dick and ball sack." Catches people off guard because apparently I'm so "sweet" looking. Oh, I say "Fuck off" and "Fuck you" A LOT too.
MS: What made you have Edward change Rose and Alice in 'Undead Life'?
CH:
That was the first thought I had when the whole story idea started hitting me. I wanted him to be the bad guy, and thought, how crazy would it be if he turned his sister-in-laws and made them be with him before handing them off to his brothers, or having them be rescued by his brothers? He'd be a pretty big asshole. And I thought it showed how selfish his character was better than most things could have.
Plus, the thought of turning any of the girls he had turned and then just tiring of them and telling them to piss off, well I thought that was insanely cruel. It's the Edward I was going for.
MS: Which is your favorite characterization or Edward, Emmett, and Jasper? i.e darkward, dilfmett, etc.
CH:
I really do love them all. Edward so suits dark roles. Emmett the lovable daddy or best friend. And Jasper the… hum, I really like Jasper as the older man. Damn. I like them all as man sluts as well.
MS: What is/was your favorite smutty story?
CH:
Fast and Hard
by CourtHale and like I said, I really love
All Work and No Play
by herinfiniteeyes. The sex is some of the hottest, with a very dirty talking, older man, Edward - two of my favorite things combined.
For more of Crash Hale and her Collabs with Court Hale check out this
Forum
or their joint account
Irenella Courtmett
Ciao, dolezza