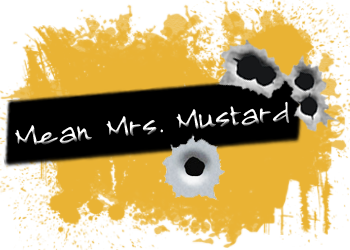 Viva La Prologue!
If you are on Twitter, you may have seen those three words repeatedly over the past several weeks. Those words intrigued me enough that I had to start reading
For the Summer
by
Camoozle
because I needed to know what all the fuss was about. Of course, I immediately became hooked. Then I hooked two friends, who hooked two more friends and now we're all one big clusterfuck of people who live for Fridays when FTS updates. Some days I feel like a drug dealer as I tell my friends to read this story, they won't regret it and they will thank me for it later. Anyways, before I start yammering on about all the weird things I did while on acid back in college, let's move onto the story shall we?
To put it simply, For the Summer is the story of the summers Bella and Edward spend together. However, it is so much more than that. Bella's father, Charlie, owns a small waterfront resort on a lake in Arizona. There's a marina, you can rent sea-doos (Thanks Emmett) but there are also cabins, motor homes and all sorts of fun times can, and do, happen on that lake. Each summer, starting when Edward is 12 and Bella is 11, he comes with his family, which changes over the years to include his stepmother Esme and stepsisters Alice & Rosalie. Edward is from Seattle and his family comes to Arizona to relax and enjoy the summer. Carlisle writes his medical books while Bella and Edward are best friends and spend as much time as they can together.
Their friendship is easy at first, like peas and carrots, because they get along so well and age and gender aren't really an issue. Of course, as they age things tend to get a little more complicated. Bella is unsure of herself and how Edward feels about her, even though her feelings are growing quickly and she find herself falling for him. He's persistent, but never completely open with her either. Edward gives her gifts, each one an expression of how he feels about her, but he never comes out and says it.
Each chapter represents a new summer and each summer finds their relationship growing more difficult and complex. Edward's life begins to change and he brings friends along for the ride some years, while Bella yearns to spend all of her time with just him.
Edward's quiet for a full minute and I'm afraid to look. I feel the bed move, and his body cuddles up to mine. His fingers gently wrap around my wrists and he tugs at my hands.

"Bella, come on, look at me," Edward asks quietly, and I allow him to pull my hands away from my face. "It's okay, you know. To be turned on. It's not bad or anything. And you can trust me. I don't want you to ever feel weird around me. I won't ever make you do anything you don't want to do."

"It's not that I don't want to. I've just never…done that. I've never felt these things before." I try to explain. I want to let him know it's not his fault in any way.

"Never? You've never been turned on?" Edward asks and I frown, embarrassment just won't leave me alone today. Oh well, since we're spilling secrets.

"Top Gun," I say quickly and Edward grins. "That part when they kiss and then there's the licking and yeah, that was pretty hot. I had to watch it sitting next to my brother and my mom. I couldn't even enjoy it properly."

"I really like you, Bella," Edward says with a soft sincerity that makes my chest swell. He swallows, his eyes on our hands connected between us.

"I like you too," I respond. "You're my best friend."

"Friend?" Edward asks, his eyes flash to mine at the word and I know I want him to be more. So much more.

But he can't be. He can't be anything to me because this isn't real life. The real Edward plays the piano and basketball and wears polo shirts. The real Edward lives in Seattle, Washington and takes advanced classes and hangs out with friends.

This is just a vacation. This is all I can have of him. For two months out of the year, Edward can be more than just my friend. For the next two months, Edward can be mine.
The usual cast of characters is there, with the canon counterparts, but the way Camoozle works other characters in is also one of the reasons I like the story. There's the usual miscommunication, the UST and the awesome twists that you don't expect, and everything makes for an awesome story that I can't put down.
After all, as Shakespeare wrote - the course of true love never did run smoothly. But then again, isn't that one of the reasons we read fic?
MMM: How did you get started with FF, both reading and writing?
Cam:
One of my good friends linked me Wide Awake after we read the books. After that, I read anything and everything until I started writing. Now, I'm very choosy because I just don't have the time.
I started writing as an outlet. I was at a place in my life where I felt very limited and stuck. Writing helped to loosen things a bit.
MMM: What inspired you to write 'For the Summer'?
Cam:
There's a Death Cab song, Summer Skin, and every time I hear it, I think of these river trips that I used to go on every summer with my best friend and his family. We used to make up these stories about the people that live in the small town that we'd drive through on the way in to the marina. A lot of the things that happen in the story are autobiographical. The boat in my banner is his boat and the resort in the background is where we stay. I'm making him read the story, lol!
MMM: As a member of Team Summerward, how did you feel when you found out that the team raised a collective $2,650 for FGB?
Cam:
T
his is just astounding to me. It's quite remarkable that people are willing to give in so many ways. I'm looking for a way to somehow take credit for this, but I really can't. It's a beautiful thing, man.
MMM: I have to admit, I would love to see ANY chapter from FTS in EPOV, but is there anything in particular you want to write in EPOV for Team Summerward?
Cam:
Anything in Seattle. Anything that has to do with him interacting with his dad, anything about the world he lives in most of the time. This is elemental to the story, how Edward is such an island in Seattle. He's pretty, and dreamlike but surrounded by water and detached from anything else.
MMM: Are you shocked by the response the story is getting?
Cam:
Utterly. I had no plans what-so-ever for people to like this. This story is purely self-indulgent, lol! I wanted to experiment with characterizations and voice and tense and plot devices. I really didn't expect people to read it. Lol. But I'm so very humbled that they do. I've got nothing but love for these readers. They put up with my antics and I love them for it.
MMM: Most stories that feature a prologue have it be from the major drama that will unfold further in the story, however yours is very promising. Should this scare me? Is there heartache after we come to the prologue portion of the story or is the prologue the end?
Cam:
The prologue and epilogue take place on the same day. No surprises. This story has a happy ending. It's more the middle that's important.
MMM: What's the best review you ever got for For the Summer? Feel free to restate any of mine. Just Kidding.
Cam:
The best reviews are the ones where people relate or share their own summer stories. I love thinking that something I've written is relatable or realistic. It makes the experience just a little more personal. I like that.
MMM: When you started writing fan fic, were you ever discouraged about it? Maybe worried that people wouldn't like your writing? If so, what did you think about it?
Cam:
I'm discouraged all the time, but then I look at a sad Keanu and I laugh, lol. I read one a lovely review and my heart flutters. Sometimes I freak out and flail all over the place and my girls call me a goose and then I laugh at myself. And I know, I am absolutely positive that some people will not like my writing. No likey, no biggie…not every story is for everyone.
MMM: What advice would you give to a newbie wanting to write fan fiction?
Cam:
You're not going to make everyone happy so write what you want and don't read the forums, lol. I write way ahead so that by the time I'm posting the stuff that's tough, it's so far out of my mind that the writing isn't effected by any negative response. And there will be negative responses and it's okay. I pick one friend and write the story for them, like a gift. Then the negativity doesn't matter as much.
MMM: What are some things you tend to steer away from when writing a story?
Cam:
It depends on the story, different stories tackle different issues. As far as actual writing goes, for this story, I wanted minimal filler, minimal prose. I wanted to write more dialogue. This is so hard for me, because I'm a wordy SOB.
MMM: What are your top 5 favorite FF's you've read?
Cam:
In no particular order…and they're all complete.
Atlas Shrugged
Masque of the Red Death
Suicide King
(although I think this was taken off FFN and is being edited. I just went to check and it only has two chapters up right now.)
When We Drove All Night
How to Save a Life
MMM: What stories do you recommend for our readers?
Cam:
Read Disappear Here. Now.
MMM: What do you HAVE to read the moment you see an update?
Cam:
See above. I can't say enough about how much I adore this story/author/writing.
MMM: Have you ever had any surreal moments in fic? Times where you wondered what the hell you were doing, or shocked that something happened?
Cam:
When I was reading How to Save a Life, there was a convo about Wuthering Heights that I swear is verbatim a discussion I've had with my best gal. Freaked me the fuck out.
Also, I had a reader when I was writing aCitD whose real life was eerily similar to the story. It's such a trip to meet these people that are so far from me, yet so close in that they identify with my brain and my realities. It really does my head in.
MMM: If you had to mismatch the canon pairings who would you put with who and why?
Cam:
I'm really liking the Emmett/Bella dynamic and also Emmett/Alice. I'm going through an Emmett phase, I think…lol.
I want an Alice/Jane fic. I think someone should write this for the In the Closet Slash Contest that I'm judging. WRITE MORE FEMMESLASH FANDOM. That is all.
MMM: And which pairings drive you crazy and why?
Cam:
Anyone with Jacob makes me cringe. I despise him.
MMM: What is your craziest fan encounter or review?
Cam:
In Constant, Bella has an eating disorder and after it was through, I had a reader PM me and tell me she was now getting help for her own eating disorder and I was completely floored. I have struggled with ED's and wrote this story as a way to release some of my own harbored guilt. To know that someone else can benefit from my experiences means a lot to me. I think this is crazy, that something I've written is useful/meaningful/inspirational to someone else. It makes me feel kind of useful.
MMM: If you could beat the shit out of one Twilight character, from the book or movie, who would it be? How would you do it and why?
Cam:
Jacob. I hate Jacob. I find his characterization completely manipulative and self-serving.
MMM: What is your favorite curse word?
Cam:
Fuck. I love this word. I use it excessively. I'm like Sam I am with this word. I will use it in a house. I will use it with a mouse. I will use this word I say. I will use it every day.
MMM: If Heaven exists, what would you like to hear God say when you arrive at the Pearly Gates?
Cam:
First of all, I'm going to be very surprised if I get into heaven. I don't think my kind are allowed there.
And, if God himself meets me at the Pearly Gates, I'm gonna throw a hissy fit. There's shit out there he should be fixing dammit! He shouldn't be wasting his time with silly old me.