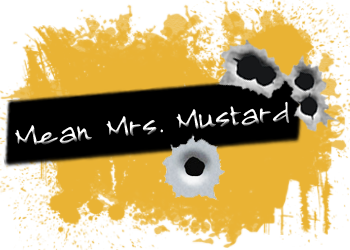 So this week is
Out of the Comfort Zone Week
and well, if it's anything but canon-couple fics it's out of my comfort zone. This week I am rec'ing a threesome fic called
And Everything Nice
by
swill122
, which includes Bella, Rosalie, and Edward. I do believe that this is only the third threesome fic I have ever read but I can say it made me squirm…in a very good way.
Bella and Rose are best friends. Bella and Edward are engaged and have been celibate for a month. Rose
likes
girls and Bella is still not sure how she feels about
liking
girls. Throw all this together and exploration is bound to happen.
Rosalie plunged a finger into her icing to taste. "Mmm, yum. Here, try some, B," she offered, dipping her finger again.

Considering the conversation, Rose wasn't surprised that Bella's tongue on her finger turned her on a little. It also didn't help that it wasn't just a quick, pull-the-sweet-off move. It was slow and deliberate. Bella wrapped her lips around Rose's finger, swept her tongue softly over the sugary frosting, and drew her lips back slowly, closing her eyes and humming.

Rosalie had to work very hard to hide any evidence of the heat building in her belly. The past wasn't quite distant enough to forget the memories of Bella's tongue pressed against her own. They'd only kissed a few times, mostly in the early days when they were still figuring out the whole sexuality thing. Rosalie had come down firmly to one side—women—fairly early on, but Bella had a tendency to waver on the issue.

"Okay, honey, I know you're feeling frustrated, but it's not nice to tease." Rose laughed nervously, her voice wavering. Teasing Bella was usually Rosalie's territory, so it was nice to be on the receiving end. She'd always hoped that Bella would come around to her way of thinking, and moments like these tended to keep those thoughts on the front burner.
Of course licking icing off of your best friends finger, who hasn't had sex in a month, is going to lead to more and possibly some trouble with someone's husband-to-be…or not?
"What did I walk in on, exactly?" Edward asked from the entryway, his keys clinking against the glass bowl as he dropped them in.

Rosalie looked up from Bella's kiss and met Edward's gaze. Bella was in no condition to answer, so she did.

"Your fantasy," she explained, watching as he dropped his coat on the floor. She lifted her eyebrows as she watched him loosen his belt and palm the front of his slacks. Edward stalked toward them, rolling up his sleeves. Rose was fixated on the black and white tattoo he revealed, inch by inch, on his thick forearm. Edward unbuckled his watch and let it fall to the counter. He seemed enthralled with the slow, deliberate movement of Rose's hand in Bella's jeans.

"Is that right?" he asked, coming to stand behind his fiancée. He pulled her hair around his wrist and tugged, lengthening her neck so he could lower his mouth to it. "Looks more like Bella's fantasy to me." He licked a line up her neck and blew warm air, and she shivered. "Lean back, baby, I've got you."
After a little playtime in the kitchen, things heat up in the bedroom with a toy.
Edward, who had been quietly watching most of this transpire, suddenly stood. Both women could see the head of his dick was red and throbbing—he must have done some serious work to keep himself in check so far. He motioned for Bella to move toward him, and though she wasn't sure what he had in mind, she obeyed.

"Lay with your head this way, baby," he instructed, motioning for her head to lay toward the foot of the bed.

"Oh, you want to watch, honey? Watch her fuck me?" Her dirty words made him stroke again—he had no choice, watching her breasts bounce as she lay down and hearing the filth coming out of her mouth. He nodded, and she smiled. "'Kay."
Reading what happened after this excerpt is so damn good but things take a small break when Rose and Edward begin to talk about emotions and the feelings they share for Bella. It's a sweet, refreshing talk between them just to set things straight on the situation that is happening.
"It was the same with us, Rosalie. We were friends for a long time before we started dating—you remember that much. It was even longer before we were engaged. She takes her sweet time following through on things. That's why your 'timing' was always off, as you say."

To Rosalie, it sounded as though he'd thought this through pretty well, and his words rang true. Feelings that she'd had for a long time suddenly seemed to make a whole lot more sense.

"I love her," she admitted.

"She loves you," he replied.

"Are you angry?"

He paused to consider. "Why should two people in love make me angry?" Edward asked. He was being completely honest, and Rosalie didn't know what to make of it.
This fic was originally a one-shot that was started with a prompt but the author has now decided to continue with the story. There are only four chapters but they are all greatly written and you can't just stop reading after the first chapter. Enjoy!