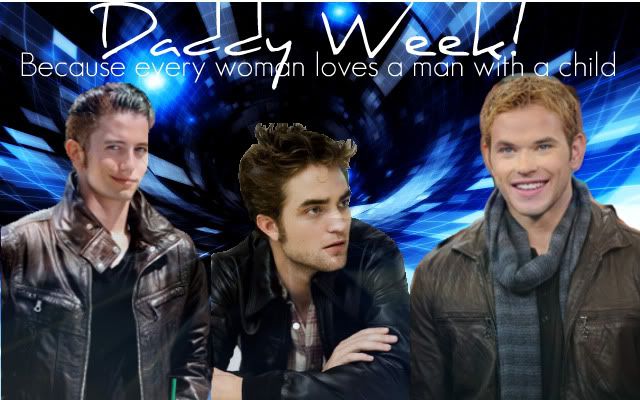 Hi Guys I know this is a rather late post but today has been a busy day. And over the next few days or weeks rather the blog is going to go under somewhat of a transformation. Some things will change but it will still be generally the same so no worry there.
So the week is at an end or a beginning, depending on which way you look at it. And over this past week I have been getting some comments or emails mentioning some Daddy stories that I may be interested in. Some I have read and others I haven't. So here are some stories that get some honorable mentions.
3, 2, 1
»
by
heather dawn
Bella moves to New York & somehow things go from better to worse as she is left pregnant & alone. Her saviors come in many shapes & sizes with one thing in common. 3 pregnancies, 2 weddings, 1 happy family. AU/AH Warning* minor drug use & smut ahead.
A Perfect Love
»
by
Robicorn
Dr Edward Cullen is a twenty-six year old single dad who is sexually frustrated until he meets his sister Alice's college roommate Bella Swan. Sparks fly over Thanksgiving weekend. Lemons. Collab with Robinated Cont of 1 shot for Ninapolitins DILF contest
Breaking the Rules
»
by
Wonder Woman 82
Bella Swan finds herself at Meyer Preparatory school, and with new friends. What happens when she meets Jasper Hale, who has a set of rules that all girls need to fall under for him to be interested? Rated M for future lemons. AH
Hand Me Down
»
by
Hope4more
Bella is pregnant, alone and broke. She doesn't turn to the ones she should. She toughens it out on her own. Unexpected turn of events keep happening in her life; it comes as a great surprise who turns to be the one constant in her life. AH/AU R/R Lemon
Lowering the Wall
»
by
kamills
Bella is a 23 year old single mom trying to make it on her own. She takes a chance on a man she might love, but when her past comes back to haunt her, everything falls apart. Will she be able to pick up the pieces and lower her wall for true love?
My Guy, My Girls
»
by
Irenella Courmett
Bella and her son move to Forks for a fresh start. Emmett is a widower with three daughters of his own. Their lives intertwine when Emmett becomes her son's peewee football coach. How will their new relationship affect the children? AH. AU. MA content.
Nine Months In The Making
»
by
bemylullaby
Anything can happen in nine months...a life can be created & brought into the world. Follow the journey of 6 friends who've been through everything together. They've laughed, cried & loved together...will they be able to conquer the road ahead? ALL HUMAN
Relative Wind
»
by
Mac214
The romance begins at 15,000 feet above the earth, but what happens when forces other than gravity conspire to keep them apart? AU-AH. OOC. Rated for lemons and language. Commissioned by Athena for the Fandom Gives Back auction.
Royale
»
by
EmmaleeWrites05
Jasper/Bella - AU, AH, Slightly OOC – Bella works her butt off for a gentlemans bar - Royale - to provide for her family but she learns some unfortunate details about her husband & turns to the one true friend she has. Rated M for future lemony goodness..
Yours, Mine and Ours
»
by
imma vampire
AU:Bella is a single mom of 3 boys.Edward is a single dad of 3 girls.Bella & Edward fall in love but have to convince their kids that their relationship is real.Twists&turns await these two broken families as they journey from broken to whole.M for Lemons
Here is also a community where I get a lot of Daddy stories from:
Pregnant Bella and Dad-Ward
Hope you guys take a look at these and enjoy them. :D