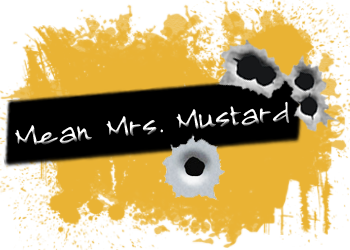 Happy Halloween!
I don't usual read anything that is scary or that I know won't have a happy ending and my rec for Horror Week is both of those things; scary and no happily ever after.
The one villain I cannot stand to look at is Michael Myers, and
Ruby01
's
Edward in
His Name Was Edward
reminded me of Michael, over and over. It gave me chills.
Bella and her niece have a conversation that startles Bella.
The silence seemed to be deafening for ten long seconds, until Samantha spoke the words that made Bella freeze, and her heart drop to the floor.

"Who is Edward?" Her voice was barely above a whisper.

Samantha noticed that her aunt's hands, which rested on top of her own, started to feel clammy and she appeared to be locked in place with all the blood seemed to have drained from her face. After a couple of minutes of strong silence, Samantha began to panic. "Auntie B?... Aunt Bella?"

She went to stand up, to go for the phone, when Bella's hand suddenly grabbed a hold of Samantha's wrist. "Did Jess-, was Mrs. Newton and Mrs. Crowley the one's you heard that name from?" Her voice was eerily calm.

A little freaked out by her aunt's reaction, all Samantha could do was nod.

Bella shook her head in disgust. "Will they ever stop talking about it?" She wondered aloud, mostly to herself.

"Stop talking about what?" She knew she was bordering on nosy and intrusive and while she didn't like the way those snotty teachers sneered her aunt's name and whispered about a guy named Edward, it had definitely piqued her curiosity. She wondered, based on his name, if this Edward had been an older man - or possibly a teacher there?

"Samantha... it's something that's best left in the past. Although, I have to say in a town this size and given the people in it, I'm surprised it's taken this long."
After this visit from her niece, Bella is reminded of the day that she met Edward Masen.
She was on her way to her second class, when she rounded a corner, and collided with a hard body. She stumbled back a bit and the book she was carrying fell to the ground. "Oh, I'm s-sorry..." she stammered, trailing off when she looked at the boy, who hadn't moved.

He was nearly a foot taller than her five foot four and he was lanky, yet muscular. He had ear length reddish-brown hair, that seemed to have a mind of its own, and he was wearing a snug fitting black t-shirt, faded jeans, and very worn-looking combat boots. Then there were his eyes. She had seen people with green eyes before, but not like this. It was like staring into two shiny emeralds and they were glaring back at her.

She had never seen him before, so she could only surmise that this must be Edward Masen. She felt uncomfortable under his seemingly hostile glare, and briefly wondered if there was some truth to the nasty rumors. She dismissed them just as quickly and mentally scolded herself for her impromptu judgment.

She decided that now was just as good a time as any to introduce herself. "Hi, I'm B-bella. You must be Ed-Edward?"

He remained silent. In fact, he still hadn't moved at all since their collision, he just continued to glare. Bella felt the familiar heat rise to her face; till she was sure it was the color of a fire truck.

Just then, the warning bell rang, and she remembered her book was still on the ground. Since he was obviously less than chivalrous, she bent down to pick it up, and Edward followed her every movement with his eyes.

"Well, I b-better get to class..." Deciding that she was going to get nowhere, she gave up and hurried off to Spanish, stumbling over her own two feet on the sidewalk. She did not give Edward Masen a second glance.

Once she was out of view, Edward felt one corner of his mouth turn up. "Nice to meet you, B-Bella."
That was the first line that gave me a creepy feeling.
Their second encounter is where things get interesting.
"Hello there, B-Bella." He seemed to mock her. She swallowed the lump in her throat. She couldn't help but notice that his voice was smooth, like satin and it had a certain charm to it; it was like no other she had ever heard. She was beginning to think that Edward Masen was in a class all of his own.

"I'm Edward and I want to thank you for talking to me today. You were the only one who did. Willingly, anyway." As he said this, one corner of his mouth turned up into the most gorgeous crooked smile she had ever seen. She had been too distracted to notice before, but Edward was a very good-looking guy. He was beautiful, she decided.

He then held out his hand for her to take.

She couldn't help but feel as though her fate hung in the balance. She, also, briefly wondered if he was bipolar, and decided that it was entirely possible.

With a steeling breath, she tentatively held out a slightly trembling hand and placed it in his. It was warm, soft, and strong. And he had long fingers.

Without warning, he grabbed a hold of her wrist and yanked up to her feet. She gasped and tried to pull away, but with a firm hold, he pulled her into him and wrapped his arm around her waist.

Bella began to panic. "What are you d…"

Edward released her wrist and brought a finger to her mouth. "Shhh."

She tried to move her head away, while simultaneously trying to blink back the tears that were threatening to spill over.

"Come with me." He said in a gentle voice. It was very contradictory.

"W-what? No, my- my dad!" She tried to push away, but it was useless. He still had a good hold on her and he was much stronger than her.

Then, slowly - as if watching an action movie, where everything is in slow motion during that one, pivotal moment - he reached behind his back, and pulled out a knife. He held it just above her naval. She thought it was the worst kind of pressure. It wasn't piercing her skin, but knowing that it could at any moment, made her want to scream.
Oh, no! What's going to happen?
This fic is only two chapters with the first being, mostly, of Bella's recollection of her meeting Edward. The second chapter takes place in the present time.
Bella throws a Halloween party, and things are going great, until she goes to her room, getting away from the party noise for a bit.
She rested her forehead on the door, along with her palms, and let out a deep breath. "Fuuuck." she whispered to no one in particular, not caring that she swore for a second time that night. "Why do I keep thinking of Edward?"

Just then, her blood ran cold, and every hair on her body stood on end. She felt her palms become sweaty and she felt paralyzed. She couldn't explain it - she had heard nothing; not a sound. Yet, it was as though he had announced his presence with a wrecking ball. She felt an involuntary tremor run through her body, and she made a whimpering sound.

And then, as if a light breeze had flitted through the room, she felt warm breath on her neck.

"Hello, B-Bella," rang an all-too familiar voice. "You've-been-thinking-about-me!" he sang.

She swallowed the lump in her throat, and closed her eyes tight, not willing to believe that he was really there. In her bedroom.
Is it really Edward or is she just dreaming? Hmm… Go. Read. Enjoy! Don't forget to leave a review.