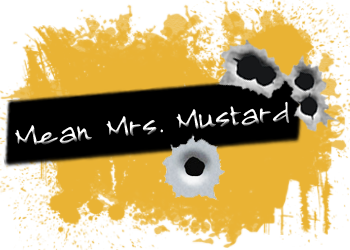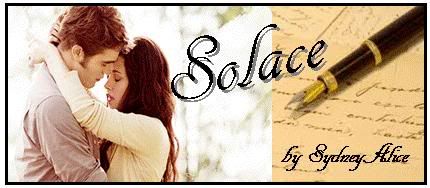 I was a latecomer to the stories of SydneyAlice, but she will confirm for you that I am slowly working my way through them. I started with Turn the Page, which is excellent, but then she began a new story so I figured I would start reading right from the beginning, and I have to admit… I'm addicted to Solace. It's one of those stories that I will drop everything to read when I see it updates, and I don't do that for a lot of stories, just so you know.
The summary
'Haunted by her past, Bella finds peace through writing. Jaded by his privileged upbringing, Edward finds comfort through music. Can they wrestle their personal demons and find solace in each other?'
doesn't do nearly enough to explain the wonderful and compelling aspects of this story.
In Chapter 1 we discover that Edward wants nothing to do with the life of excess his sister and brother seem to revel in. Jessica Stanley has her eye on him, but he finds her rather creepy and refuses her advances, as well as those of other girls at the school. When he walks into Senior Honors English, his usual seat is taken by the new girl, Isabella Swan. Of course she didn't fall for his sweet smile and confident attitude, refusing to move seats and Edward is forced to sit beside her. They were then forced to sit together in Chemistry class, where they were assigned a project to work together that would count for 50% of their grade, so they couldn't just push it aside. They had to work for it.
When we get a glimpse into Bella's life, we learn that she has lived through quite a rough turn of events and living with her father in the small town of Forks isn't exactly something she wanted, but she was dealing with it. She's uncomfortable dealing with guys, but Edward doesn't make her as uncomfortable as everyone else does. Her father is an ass who didn't really want Bella to move in, but Bella felt the urge to give her mother and her new husband a chance at a new life without her, so she is trying to make the best of her life in Forks, but it seems like nothing is working. She writes in her journal, as urged by her therapist, but it's never her own words. Only those of music or poetry. Of course none of Bella's issues deter how Edward begins to feel about her… then again, he doesn't know the truth about her in the early stages of their friendship.
"What the hell are you doing?" I whispered frantically as he climbed in the window. "Are you trying to get shot?"

"Your father fucking loves me," Edward panted as he found his footing and leaned back against the window. "Damn, I'm out of shape."

I rolled my eyes and sat down on the edge of my bed. "What do you want, Edward?"

He tried to catch his breath as he gazed at me intently. "I want to know why you're avoiding me."

"I'm not avoiding you," I lied. He snorted and walked over to the bed – his movements were slow and careful as he sat himself down next to me.

"That's bullshit and you know it," he whispered.

I stared at my hands in my lap. I had no idea what to say and I never in my wildest dreams expected to have to provide answers to him in the sanctity of my bedroom. I wasn't prepared for this – for his probing stare and his soft questions as he sat next to me on my purple comforter. How could I explain to this normal seventeen year old boy that I was anything but normal?

"Hey," Edward whispered gently, and I felt his finger tenderly lift my chin. My eyes found his, and my heart melted when I saw the worry etched on his face. I closed my eyes as his trembling hand slowly cupped my cheek. I held my breath as I waited for the panic that was sure to come, but all I felt was warmth. With the softest of caresses, his fingers trailed across my cheek.

"Don't be afraid," Edward murmured softly.

"I'm not afraid," I whispered.

I opened my eyes and I caught him studying my face, as if he was trying to decide if I was telling the truth. He was so kind and sweet, and I wanted him to know that I was okay. I took a deep breath and lifted my hand, touching his fingers that were cupped gently against my cheek.

"Do you play piano?" I asked quietly.

His forehead creased. "Yeah, why?"

I slowly trailed my fingers along his. "Because you have a musician's hands."

He smiled then. "You're really not afraid?"

"I'm not afraid."

I could see it in his eyes. He was dying to ask why he was different. But he didn't ask, and I was grateful, because I had no real answer for him. All I knew was that he was the first guy in over a year whose touch didn't send me spiraling into a panic, and he was the very first guy who had ever touched me so gently and sweetly, as if I was made of porcelain and would break in his hands. My emotions were that fragile, but my body…my body had yearned for his touch since that day in the parking lot. Just the fact that he could touch me was enough to make me curious, but I was still scared by my reactions to him. I shouldn't want his touch, but I did, and I was shocked by how much I had craved it.
Edward and Bella's relationship changes quickly when Bella faces some life altering situations (I'm not gonna tell you, you need to read the damn story people) and before long they find themselves living under the same roof and sneaking in as much time together as they can. They are realistic teenagers, facing life changing issues and handling them as best as they can, which makes Solace a very interesting and compelling story.
And seriously, if you haven't read anything by SydneyAlice before, get on it.