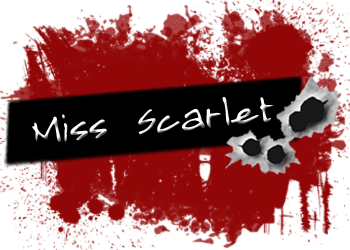 Love is in the air. Love is a many splendid thing. Love makes the world go round. All you need is love. Blah, blah, blah. Don't get me wrong, Miss Scarlett loves love but Hallmark is cramming it down our throats this week. What if you're single? What if the one you love, loves someone else? What if you have a boyfriend but wake up in someone else's bed? What? That's where we find our dear Bella, the morning after she cheats on her boyfriend. We Were Here by lola-pops puts us right in the middle of Bella's dilemma.
I try to orient myself in the present, like I've just been momentarily waylaid from my set path. I have to cheer at a game tonight, my uniform is at home and I have a Chemistry test third period.

And I fucked Edward Cullen.

Then, even though I'm thinking of that thing he did with his tongue, I'm also thinking of holding his face in my hands as I look into his eyes, inches apart while I move on top of him, his breath hitting my lips. Barely touching. The kisses...fuck. I need to stop.

Sliding to the edge of the bed I find my t-shirt and jeans, put them on and stuff my bra and underwear into my bag. He doesn't move, and when I turn back he's looking out the window.

"Look, I..." I fade off.

He meets my eyes. I study his face, the shadow on his jaw that scratched along my throat, down my stomach, my inner thighs. The dog tags that hang backwards on a silver chain down his back belonged to his father. He told me that as he kissed his way up my body, the cold metal sliding across my skin. They were some of the few words spoken between us.

"You gonna tell him?" he asks, his voice low and full of sleep.

"I don't know," I admit.
Bella isn't what she seems, on the outside she's the popular cheerleader that everyone loves. On the inside though she is in pain and screaming for help. Her best friend, Rose, is her pharmacist, handing her any little pill she can. Bella never asks what it will do, she just takes it in the hopes that she can escape for awhile. Lola-pops really knows her teen angst and writes it in a way that everyone can relate. When Bella admits to her boyfriend, Jasper, what happened she is truly set free and starts living. There is some ugly retribution she has to deal with, but she does and it's not pretty, but it's real.
Lola-pops creates a high school story that's believable and entertaining. Edward is that guy that's just on the edge of the scene. The one who you have in your periphery and are always aware of. He sees the fakeness in Bella's life and isn't afraid to call her out on it. Yet he still keeps his distance.
"I didn't tell him, you know. I mean, I didn't tell him it was you."

"I know." His jaw clenches.

"It would have been worse."

He looks at me for the first time since we've been in the car. Really looks at me. My breathing gets shallow. "I'm not scared of Jasper," he says.

"I'm not saying you are."

"Are you?" I get what he's implying, but don't want him to think I'm a victim.

I break the stare that I've wanted so badly. "No, not like that."

When I look back he's unreadable, staring forward again.

"I wish you would talk to me," I say softly.

"I'm talking."

"Hardly. Most of the time you won't even look at me. Like I don't exist."

His laughter is abrupt, and I turn, confused when find his face angry.

He flips the headlights on and puts the car in reverse. I guess this is my cue.
See what I mean? A pro at angst. This fic has me begging for more after I finish each chapter- and I don't usually beg. Okay fine, I may have begged some of the other authors I've reviewed and lola-pops is no exception. After I insinuated myself as her friend on Twitter I was able to gush over this fabulous fic. You can say they come from opposite sides of the track, Bella comes from a well off family, while Edward lives with his Aunt Esme in an apartment. He's had trouble with the law before and is trying to be good. It's a struggle for Bella to get through to Edward and as of right now she is still trying to. Although they started things off things by having sex first, Edward doesn't want Bella to think that's all he's after. Swoon. But Bella is strong and knows what she wants, and he doesn't stand a chance.
"What's up?" I ask after a minute of silence.

"What do you want?"

The question catches me off guard. "The truth?"

He looks at me like I'm a moron.

"I don't want to be your secret."

He gets dangerously close to rolling his eyes. "You're not."

"You won't talk to me at school."

"You didn't talk to me for like six years!" he says, his voice raised maybe for the first time since I've known him. My eyes tear and he stands up, pulling his hat on and tugging on the brim to hide his eyes. He shoves his hands in his pockets. "I painted that shit for you. That's how I feel." He pauses. "But for some reason you think I'm the one in control here."

He walks over to where I'm backed up against the door. "You have to stop resenting me," I say.

"You have to stop expecting me to be something I'm not."

I think about that for a second and nod. "Why won't you have sex with me?"

He laughs, probably at my bluntness. "I didn't want you to think that's all this was about."

His lips meet mine so I can't respond right away. "Can't it be about both?"

"Fuck, yes." He presses against me. "But honestly, I don't mind waiting."
This is a well written story that has characters with actual depth and it's off to a promising start. I look forward to each update in order to find out just what exactly is going on with Edward and how Bella is handling their burgeoning romance. This Valentine's if yo9u're looking for something angsty, We Were Here is the perfect story to give your heart to. And she has great taste, lol.
Miss Scarlet: How did you get started with FF, both reading and writing?
Lola-pops:
I can't remember what I read first, or how I found Twilighted, but I lurked for probably six months or so before I started writing. At that point I still didn't know that ff.net existed, or that there were, like, forums and stuff. Ha! I started writing the summer of 2009 and posting in October, I think. At that point I knew no one, so I had really minimal contact people in the fandom until I started hanging out on the Twilighted forums and then Twitter. And now I never shut up. :)
MS: What character from the book do you identify with the most?
LLP:
Oh wow. That's an excellent question, and a tough one. There are so many levels on which I could relate to each of them, I suppose, but the one that I'm probably most like is Jasper, weirdly enough. I am a total sponge for other people's emotions. This can be either really wonderful or really terrible, depending on the situation and the person.
MS: What inspired you to write We Were Here?
LLP:
The people around me inspire so much of it. I wanted to dig deeper into the motivation behind graffiti, and not just public perception of why they do it. Also, I'm a city girl, and I wanted to capture the feeling of the city at night, or on the roof of a building downtown, or what it's like in high school to have these vast groups of peers that are interconnected through not just their schools but their neighborhoods, music and culture. For me, it was the time in my life when I knew the widest array of individuals. It was also completely miserable, but I think that's universal.
MS: Which character do find is the easiest to work with when you write?
LLP:
Probably Bella. I don't know if everyone does this, but in some ways Bella is me, or in some ways who I wanted to be when I was younger. There's something very seductive about her life, looking at it from the outside, and I hoped to show a different perspective. As an adult I've very much learned (sometimes the hard way) that what people want you to think about them doesn't always jive with who they actually are. I'm definitely guilty of it at times, and though our plights are different, that internal struggle is pulled from experience.
MS: Who are your favorite non-canon pairing?
LLP:
I like femmeslash, so give me any two girls in the series and I'm down. There is probably an exception to that rule, but I have yet to come across it!
MS: There are a lot of clichés written in fan fiction, which is your biggest pet peeve?
LLP:
I seriously can't even talk shit, because I'm definitely guilty of a few cliches! I have a few words that make me squirm when I read them, though. Folds. Nub. Moist.
MS: If you could beat the shit out of one Twilight character, from the book or movie, who would it be? How would you do it and why?
LLP:
Ha!! Book and movie...Edward in New Moon. I would use brass knuckles and lots of shit talk. It'd be thuggish. We'll ignore the fact that he's made of vampire. I would do it because that was so very cold of him to leave. Reading that for the first time was like going back in time and conjuring up stuff that I haven't experienced in many years. Maybe I'm projecting (I am) but I would do it for Bella and for my high school self.
On the other hand, it's my favorite part of the books, because that sense of loss is tangible, and the rebuilding, and anticipation... I think that's the reason why I started seeking out fanfic. Because I wanted to read and get that feeling in my stomach over and over.
MS: Every writer has their own process. What helps you to get the story out? Do you use an outline or just let the story tell itself?
LLP:
I make loooots of notes that I reference all the time, so in a way it's a very fluid outline. It changes all the time. I've tried to write it out and stick to it, but it ends up feeling uninspired. In truth, I'm kind of a mess. Just in a general sense. I'm always looking for a post-it that I wrote something important on, or trying to remember what I named a file.
MS: The twific fandom seems to be going through a fair amount of drama these days, how do you feel about the fandom as a whole?
LLP:
I truly love being a part of the fandom!! Of course, like everything else, there's bad mixed in with the good, and there are a lot of grey areas. So there are parts of it that, to me, seem negative, but what the hell do I know? I just try to keep a sense of humor about this and myself.
MS: What's your favorite curse word?
LLP:
Fuck. Hands down. I love the emphasis of a well-placed, creative swear, but sometimes you've got to just go with the old stand-by. Fuck.
MS: What advice would you give to a new author wanting to write fan fiction?
LLP:
Hee. I've started this answer, like, ten times, but every single thing I say comes out sounding trite and way too much like a motivational poster. So my advice is to rail against what's trite. Take risks and make no apologies. Own it and have fun.
MS: If Heaven exists, what would you like to hear God say when you arrive at the Pearly Gates?
LLP:
"The dance party begins in five minutes," or "In heaven, every hour is happy hour," or more seriously, "Everyone that you hoped was here, is here."
MS: Is there anything you'd like to add?
LLP:
You're awesome!