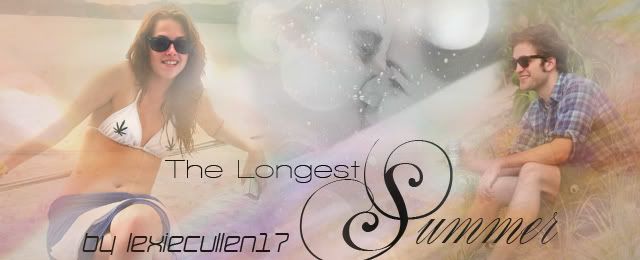 Good morning, afternoon, or evening; depending on what part of the world you're in. I hope you all have enjoyed A Thin Line Week. In light of Valentine's Day, I dug deep in my fanfic bag of treats to bring you something light, fluffy and full of love.
The Longest Summer
by
lexiecullen17
.
This may not be my story, but the picture lexiecullen17 drew with her characters made me feel as if I lived in Bella Swan's shoes. Any of you that spent even one summer at camp will not only appreciate, but enjoy her tale of a childhood crush turned into girl's dream come true.
The story begins with Bella returning to the camp she spent her summers at from a young eight years to well into her teens. There she met Edward, who was not only a counselor but her mentor. While the typical dream boat, he's quite a bit older than her and a bit on the geeky side (which I love).
Instantly, you're told about Bella's five year crush, but that's not all; this story is one about life-long friendships, both new and old. Hearing stories of Alice, Bella, Emmett, Jacob, and Edward and their time together gives great insight to each characters psyche and helps the flow of the fic.
Now, I know what you might be thinking; I didn't mention Rosalie. That's because she's a newcomer, as well as Jacob's cousin Seth and Jasper. Seth's appearance in this story really threw me for a loop, but turned out to be a pleasant surprise. He brought the controversy, jealousy, and sensitivity that, I feel, each fic needs.
"Bella, are you okay?" Alice nudged me in the stomach hard.
"Ow, what the hell, Alice?"
"You're going to have to sit on Seth's lap," Jake smirked. "I forgot there isn't a front seat in Em's truck."
"Sure," I rolled my eyes and slid onto Seth's lap. He chuckled uncomfortably, and I was sure he felt just as weird about Jake pushing us together as I did.
Luckily, we were out of the car and being escorted into a booth at Emmett's favorite lobster pound in less than fifteen minutes. Alice was giddy.
"You're inviting me to my own bunk?" Jasper laughed.
"And the lovely ladies, too," I chuckled, feeling completely at ease around Jasper already.
"That sounds perfect, Edward. What movie are we watching? Should we bring anything? What should I wear?" She rattled off question after question. Typical Alice.
"You can wear pajamas. There's no other way to enjoy a DVD, really. Just bring yourselves, and as for the movie…Bella can choose it." That'd be a good conversation starter, right? "What do you say, LB?" I asked, squeezing her shoulder to regain her attention.
"Sure." Yes. She's not going out with Seth tonight. Feeling some sort of sick satisfaction at that thought, I leaned in to rest my chin on the top of her head and squeezed my hands around her shoulders a little bit. My Little Bella.
I believe had Seth not been in this story it may have been impossible for our favorite canon couple to receive their HEA. His admiration towards Bella very well could have been what opened Edward's eyes, though; Bella did plenty of teasing on her own.
I was just settling into my bed and flipping through my binder of DVDs when Jasper, Bella, and Alice came in.
It took every ounce of bodily control to not let my mouth drop open or allow my cock to harden. Bella had just showered; her hair was still wet, dripping onto her pajamas. Well, pajamas weren't exactly what I would call them. She was wearing a tight, white t-shirt and the tiniest pair of light blue shorts I had ever seen on a girl. In the fluorescent lighting of the room combined with the residual water dripping from her hair, I could clearly see the outline of Bella's breasts. No fucking bra. Are you kidding me? My eyes turned immediately to Jasper, trying in vain to prevent that image from searing itself into my brain.
My dick was screaming at me to notice and stare straight at her rack, but I doubted Bella even knew I could see them. I felt guilty for even noticing. After mentally berating myself, I pushed the DVD case forward.
"So, what are we watching tonight, LB?" I asked.
Fun, lemony, realistic and worth every minute of the time you'll spending reading.