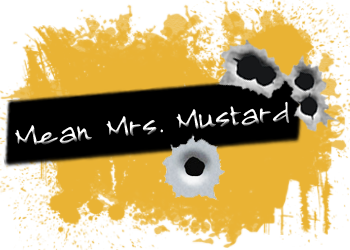 Happy Monday! So, today is kind of a special day for me. One year ago, I wrote my first story rec for P.I.C. FanFic Corner! I can't believe how time flies!
This week's rec comes in the form of Daddyward. Now, let me tell you, I have been reading Daddyward fics the entire week because a co-worker brought her new baby girl into work and all the guys swarmed her. I am one of four women that work with about thirty guys, so when you see them cooing at a tiny baby girl you can't help but feel all mushy inside. Let's not even talk about hot committeeman touching the baby's feet that caused ovaries to explode, my ovaries to be exact. Anyway, so I've been reading pregnancies, bellies, baby bellies, fingers and toes, and well, pretty much fluff.
It's a Sign
by
CaraNo
is no exception when it comes to the fluff department, but this fic doesn't deal with pregnancies and such until the epilogue, where it is only touched upon.
It's a Sign is about Edward being a single father of a hearing disabled daughter, and is done dealing with women that can't accept her. His daughter is his life, so Edward is content with it just being the two of them, not needing other female companionship. That is until he made a trip to the grocery store… (Note: *Regular font between stars.* = Sign language. "Regular font." = Talk. "Italic font." = Talk while signing. The story excerpt is not changed to complete italics because of the dialect.)
I felt the plastic on my leather cuff vibrate on my wrist, and I spun around to see where Emma was.
We were grocery shopping and Emma just loved to run around. I wasn't worried, though, because Rose was with her. But that didn't mean she didn't love to annoy the shit out of me with our bracelets.
It was my best friend – Jasper – who gave them for us last year on our birthday, and it was a clever thing. But that was just Jasper. High tech and inventive, and especially in this situation, having a daughter that was deaf, too.
He had bought me a regular leather cuff for my wrist, and a silver bracelet for Emma, and then he had attached a flat square shaped piece of plastic on the inside of my cuff that vibrated when Emma pressed the button on the small plastic charm on her bracelet. The charm on her bracelet simply sent a signal to the receiver I had on my cuff, and yes, she loved to press that button.
I made a mental note to talk to Jasper to see if I also could get a goddamn button, and I could annoy my girl right back. However, knowing my girl, that would probably only make her laugh.
After checking several isles, I found her and Rose by the ice cream. And there was another woman, too.
One with a very spectacular ass I must say.
What, I'm still a man.
But what stunned me was when the brunette crouched down, and started signing with my daughter, and apparently it shocked the shit out of my sister, too.
It didn't take a genius to figure out that I walked over to them.
*I'm 5 years old,* I saw my girl sign, and I figured the long-legged brunette had asked how old she was.
Emma saw me then, and her shy smile turned into my lopsided grin as she waved me over.
"You're killing daddy with that bracelet, princess," I told her with a wink as I approached.
She just laughed at me, of course.
Then I focused on my sister and the, Jesus… beautiful woman. God, she was stunning. Her face was… nothing but gorgeous.
"Edward," Rose smirked. "This is Bella. We work out together at Emmett's gym. And Bella, this is my brother, Edward."
I smiled, offered my hand. "Nice to meet you, Bella."
She smiled brightly and shook my hand as she replied, "Nice to meet you, too, Edward… I take it little Emma here's yours?"
"She is," I grinned, looking down at where Emma was watching us curiously.
That always tugged at me, to see her so curious about what she wasn't hearing.
Apparently Bella noticed as well, and when she spoke again, she signed at the same time. Once again shocking the hell out of me.
"She's an adorable little girl. Rose told me about her niece, but I'm afraid her words didn't do her justice," she smiled, winking at my girl.
Emma's face lit up like a Christmas tree, and it was for such a simple thing as being included.
Did I mention that this is a nanny fic, as well? Yeah, I know a lot of you love the forbidden Nanny Bella and Daddyward fic. As much as Edward tries to squash his feelings towards Bella, because she is Emma's nanny, he can't help but be ecstatic that she is willing, and can, communicate with his daughter. Not to mention the fact that Bella, so easily, falls into a motherly role with Emma, especially after Edward asks her to move in with him. What? Bella needed a place to stay because her apartment lease was up and hadn't found a new place. But Edward, being male and well, Edward, thinks he knows what is best for Bella, and denies any subtle advances she throws thinking there is no way she feels anything for him. Go ahead; you know you wanna know how Edward lives with Bella and all the sexual tension. I'll give you a few clues on how it starts to become resolved: Halloween party, lots of booze, and black, barely-there lace.
It's a Sign is complete; twenty-two chapters with an epilogue, and completely in Edward's point of view. There are a few lemons. Possibly a good one where Bella is sleeping and "acts out" a dream, while she and Edward are vegging out on the couch, recovering from said Halloween party. Pervward might have watched Bella and then pretended to be asleep when she suddenly woke up, realizing what had happened.
Go. Read. Enjoy!