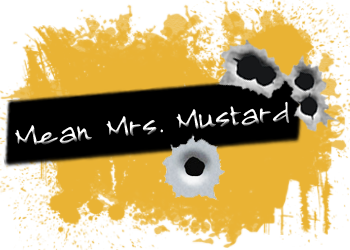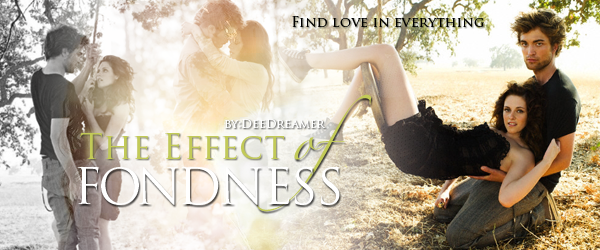 The rec I have for you this week is all about the fluff; sweet, romantic, hardly any angst, and a bit of UST. Also, we have a special visit from the author!
The Effect of Fondness
by
DeeDreamer
is about two best friends, Edward and Bella, which never saw each other as anything but friends until they go on a shopping trip for a "big boy bed."
"Off to number two?" I asked, raising my eyebrows in question.

"Yep, let's go, little missus," he teased as he stood and walked around to the side where I sat, extending his hand to help me up.

When his hand touched mine, I felt the weird buzzing again. The sensation combined with his joke about being his wife sent my heart racing once more. I felt my face flush with color, because clearly keeping my emotions private was just too much for me to ask of my body. This time, my blush was fueled not only by whatever my sick fantasy was but also partly due to anger.

Anger not directed at Edward, but at myself for being such a bitch. It was like this random, crazy idea popped in my head the night before at the party, and my whole being decided to look for any sign to make it real. Like I'd been commandeered by an alien – a predator – a man-eater – looking for my next victim. Was I really that hard up for a guy that I would let Edward get mixed up in my shit?

I was a praying mantis. I was going to fuck him, then eat him alive. He'd never knew what hit him.

I couldn't let that happen. Not to my buddy, Ted. Not to sweet Edward. Not to the sexy green-eyed man holding my hand and sitting on a mattress with me. Ugh, not again! Was there no escaping this new obsession?
Bella tries to deny her new found feelings for Edward but he is really making it difficult for her.
Edward suddenly shifted his position so he was lying on his side facing me, his left arm bent and propping his head up as his right hand reached out and the back of his knuckles swept over my cheek, barely making contact with my skin.
"Yes, I can see the benefits of having a bigger bed already," Edward mused, smiling his lop-sided smile down at me.
I felt the blush flood my cheeks and I desperately wanted to turn my head and look away, but those green eyes were piercing me. I was frozen in place, unable to pull my gaze from his.
"R-r-really?" I stumbled over my words in a whisper.
"Really," Edward whispered back. "Let's give this a proper test," he said as he moved his face closer to mine. He hovered over me while his hand moved from my left cheek to tenderly cup my right cheek. His thumb stroked my cheekbone and he closed his eyes and bent his head down, letting his lips touch mine.
My eyes were still stuck open – round saucers in complete shock. My breath caught in my throat as the buzzing electric sensation rippled through my lips, down my chest and to my center. What the hell is going on?!
Edward must have noticed my breath catch and he opened his eyes and instantly pulled away.
"What?" Edward giggled as he looked down at me. "You are my wife, you know," he said, giving me a dazzling smile.
"Oh, yeah, totally," I said quickly, nodding my head in agreement. "I mean, yeah, you gotta test it out and see which one will fix your dry spell, dude," I said, finding some semblance of my former self with Edward as I joked back to him.
"Maybe you should get a new bed too, to fix your dry spell," he grinned. Edward was pushing my buttons, knowing it had been several months since my last relationship, if you want to call it that.
Suddenly Edward's hand moved from my face and quickly slid down the side of my body, along my ribs and down to my hip where he promptly slid his hand under my ass and squeezed my left cheek through my khakis. "Or, did I take care of your 'dry spell' already?" he joked further, lowering his voice to be overly-dramatic and husky.
"Get off me, you fool!" I laughed as I pushed up on his chest and shoulders to move him back to his side of the bed. He giggled and sat back up on his side of the mattress. I sat up, too, and swung my legs off to the side, pivoting away from him a bit.
Edward just kissed me. And grabbed my ass. And there was the buzzing.
And I think I liked it.
The budding romantic relationship between Edward and Bella moves at a nice pace and is not immediate because they are best friends and kind of wary to ruin their friendship. I loved that about this fic; it was a natural pace and had the perfect amount of sexual tension. The banter between Bella and Edward is great too.
The Effect of Fondness is complete and perfect for my fellow fluffers (oh, yeah, I said it).
Go find out if Edward and Bella's "dry spell" is taken care of and then after don't forget to read
Ride the Blue
, the future-shot of The Effect of Fondness.
I'd like to welcome DeeDreamer to the P.I.C. interview chair…
MMM: First off, you know how much I love you and I'm so excited you could do this interview. Thank you!
DD:
My goodness, thank YOU for asking me to do this! I'm truly flattered. :)
MMM: Let's start with the usual round of questions and then on to questions so the readers can get to know you.
MMM: How did you get into fan fiction?
DD:
Like so many of us, I flew through the Twilight books and honestly was depressed when they ended. I devoured everything I could online about the Saga, visiting Stephenie Meyer's site, Google searching the actors...you know the drill! My dear friend found out via a Facebook post that I was a Twilight fan and she emailed me saying she was a big fan as well, although "closeted." She asked if I'd discovered fan fiction, and though I was aware of it, I honestly thought it sounded dumb. She quickly educated me and provided me links, and I've been addicted ever since!
MMM: Do you remember the first fan fiction you read?
DD:
Of course! "Let Your Light Shine" by the incomparable Lolashoes.
MMM: Flove Lolashoes. The Effect of Fondness was your first fan fic, correct? What made you start writing it?
DD:
Technically, I wrote a RPF one-shot first, but I've since taken it down from Twilighted. I was so enamored with Rob and Kristen's portrayal of Edward and Bella, and their obvious chemistry, that it got my creativity flowing. One day, I just started typing a scene out on my laptop and the first chapter of The Effect of Fondness was born. Completely unplanned!
MMM: Do you get ideas for your stories from real life experiences or just random things that you think about?
DD:
Almost all of my stories stem from something in real life, but nothing is quite as exciting, I can assure you. LOL ;)
MMM: Haha. Real life is lame. When you're writing, do you listen to music or have to have silence?
DD:
I typically like music when I write, but rarely have that luxury. I stay home with my two small children and if I'm writing, it's usually over the sound of their voices playing or the TV on in the background! The couple times I've left the house to write (Heaven!) I've had my iPod and the music was carefully selected to aid in my writing process. Even if I don't have a song I'm listening to, every fic I've written has a "theme" song that inspires it, and that plays in my head no matter what.
MMM: I know we have similar taste in music but who is your favorite artist to listen to when:
You are ridiculously happy –
Oh, so much! Too hard to choose!
You are mad –
This will date me, but probably Alanis Morissette. Her stuff from the Jagged Little Pill album came out during a time in college that influenced me a lot, I think.
You are feeling frisky -
Kings of Leon
You are depressed –
you know, I don't think I listen to music when I'm bummed, since I'm afraid it will make it worse!
MMM: You are the H00rfessor of Smutology at RAoR. And if you don't know what
RAoR
is, shame on you. How many hours do you think you spend on reading fan fic in a week?
DD:
Wow! First, let me say I love getting to write on Sundays at RAoR. I was a reader for so long; getting to do the blog is really a dream come true – I have so much fun! I do read a ton, though. I would say I spend about 12-15 hours a week reading fic. Usually between a completed story and a WIP for a RAoR post, it's roughly 220,000 words. That doesn't include chapter updates that lovingly appear in my inbox, and I try to sneak those in as much as time allows!
MMM: Currently, what is your favorite fan fic?
DD:
So hard to choose.
If I had to pick a WIP that I'm really in love with right now, I'd say "The Diva Diaries" by Kiya Raven. But I just recently read the complete "Osa Bella" by Myg and it quickly found a place on Top Ten list. So...too hard to choose. I love so many!
MMM: Do you have any fics that you drop everything you are doing to read the update?
DD:
Not really anymore. I just have so many that they get piled up and I tackle whatever I'm in the mood for. That's the beauty of fic, though, there's something there for every mood, for every reader's taste.
MMM: Top 5 Fav Fics
DD:
Oh, you're killing me! I can barely manage a Top Ten! I'll go with only completed fics just because I'd like to reply to this question sometime in the next century... ;) Okay, in no particular order:
The Blessing and the Curse
For the Summer
Tropic of Virgo
The Office
Let Your Light Shine/A Life Extraordinary/This Hungry World trilogy (I know, I cheat!)
MMM: Are there any types of fics you absolutely will not read? Like Jasper/Bella fics.
DD:
I really prefer only Edward/Bella stories, but I've been convinced to read some slash or threesome fics, and once even read a Jacob/Bella story. I was surprised that I liked them all. But...I must confess I really don't dabble with them too much, but I try to keep an open mind.
MMM: I'm going to give you a list of words, what is the first thing that comes to mind?
DD:
Okay, get ready for the randomness of my brain...
MMM: Banana
DD:
Yellow
MMM: Paint
DD:
Colors
MMM: Tree
DD:
Green
MMM: Morning
DD:
Sunshine
MMM: Flower
DD:
Pink
MMM: Blue
DD:
Sadness
MMM: Cake
DD:
Cupcake
MMM: Elephant
DD:
Water for Elephants/Rob!
MMM: Can't wait for April!!! Dirty, sweaty, animal-loving, baby-holding Robowski…
And probably the hardest part of this interview… your favorite Rob pic.
DD:
My favorite Rob pic? Gah!! I'm just going to have to choose one of the gazillion photos that melt me...so we'll go with this oldie but goodie (the red, the guns, the hair...UNF!):
MMM: Dear God, there is so much RobPorn going on here.
Thank you so much for stopping by, Dee!
DD:
Oh my goodness, thank you for asking me! Such fun! xo