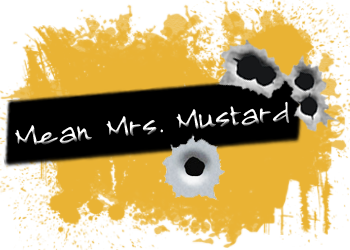 Every now and then the summary of a story actually intrigues me. I know, this is rare, since most summaries are actually written like crap - mine included. However, with
Bad Blood
by
LadyExcalibur2010
I had to read it. And I did... continually, ignoring basically all other facets of my life, until I was done and I fell in love with her story and her writing style.
Bad Blood is the story of a very stringent and orderly Edward. He ate his meals in the same restaurants, had the same morning routine of waking up, hitting the gym and then preparing for work. He liked everything in his life to work like a well oiled machine. Any deviation from his standard routine really seemed to frustrate Edward. He disliked change and Bella... well she was change personified.
"May I help you?" He looked at his watch pointedly and she took the hint.

"Uh yeah, I mean, yes, I hope so." She seemed flustered. Since he was feeling the same way, he allowed himself a small twinge of satisfaction.

He quirked one eyebrow at her, urging her silently to come to the point already.

She began rummaging around in her bag, and then pulled free a piece of paper triumphantly.

"Are you the same Edward Cullen who graduated from Jacksonville University?"

He frowned. "Yes." What could this possibly be leading up to? And why? If she didn't come to the point, he'd arrive late at the dry-cleaners and that possibility annoyed him.

Another smile from her, and this one was more uncertain. Her voice, when she spoke, trembled a bit. "Are you the Edward Cullen who was once known as Edward Masen II, son of the serial killer Edward Masen, Senior?"
Bella is a bit of a free spirit. She shows up at his house and around town, refusing to take no for an answer. Bella is a writer and Edward wrongly assumes that she is harassing him because she wants to write about Edward Masen, Senior. In actuality, Bella wants to get to know him better and understand a major incident in her past - she wants to thank him, but Edward believes that she is there to ruin his life. Little does he know at first, that Bella will be his saving grace.
Edward Cullen was broken.

Oh, the façade was impeccable, and no one who thought they knew him would guess at the tortured fears which haunted him. She, however, had seen through the mask and straight into the pure heart that beat within.

Edward, who was so afraid of becoming a monster that somewhere along the way he had forgotten to live.

She had watched him for weeks before she ever worked up the courage to knock on his door. Edward Cullen was a creature of habit. At first, she'd just found it odd. Then it had become oddly endearing. Finally, in a blinding flash of intuition, she had seen it for what it was.

It was his way of keeping some imagined evil inside of him under control.

Edward Cullen was all about control; Bella Swan favored impulse.
I honestly cannot recommend reading Bad Blood enough. The story is complete (WOO HOO!) and very well written. If you are anything like me, you will probably start reading more of LadyExcalibur2010's work. If you like historical stories I also recommend 'From The Cup of Duty'.